Drillog: A 'glass pen' designed by CNC machinists
One of the most talked-about products at least year's TIPS was a new kind of dip pen, called Drillog, from Gifu-based precision engineering company Shion. Unlike traditional dip pens, Drillog's nibs have glass nib-like grooves and ink channels and hold more ink.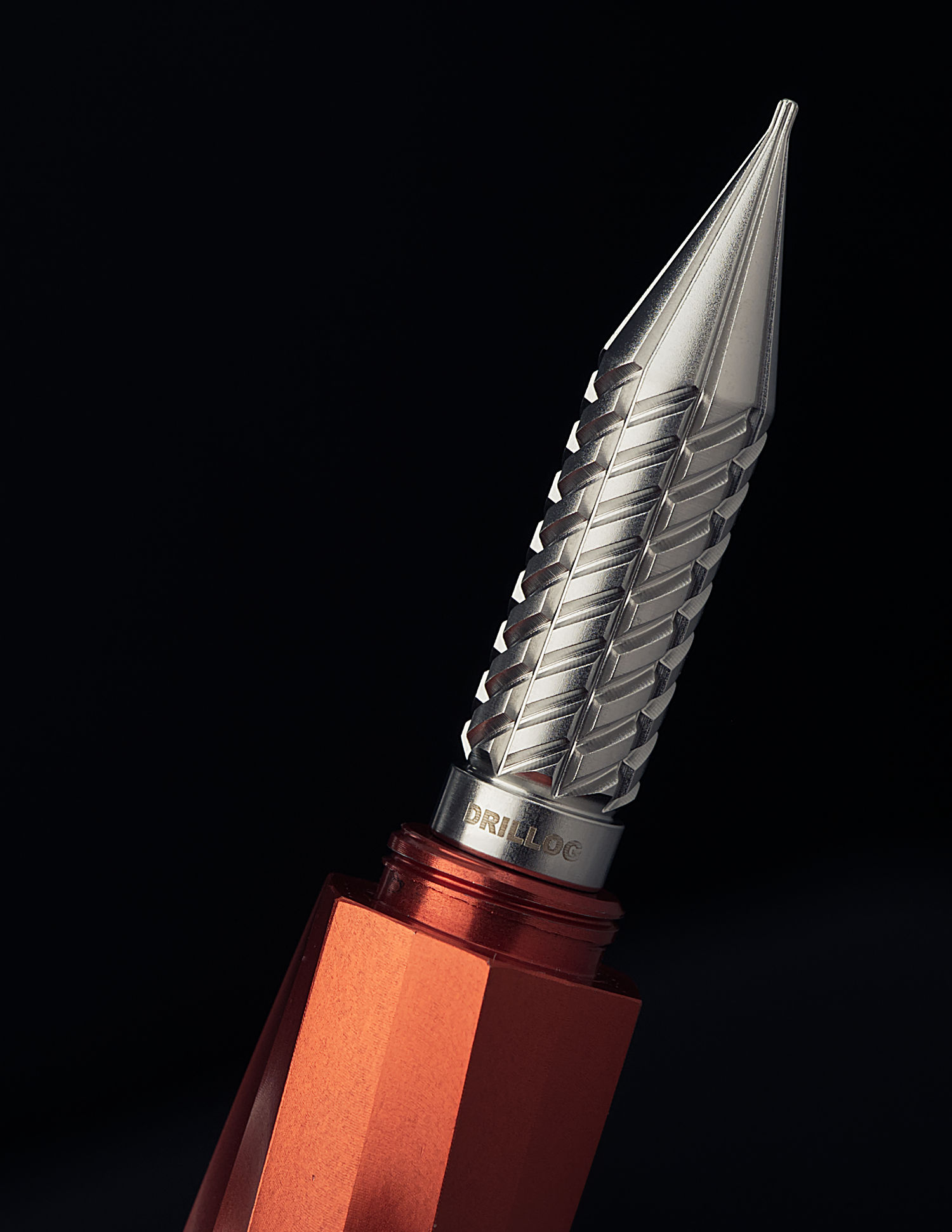 Few people had even heard about Drillog before the show. There was no website and the company had no social media presence. Drillog's Twitter account was created on the very same day as the show.
Drillog's table garnered a lot of attention. We talked about it in Tokyo Inklings episode 18, live from TIPS, and Alesa (Inky Rocks) mentioned Drillog in her TIPS video. Even monolettering celebrity Bechori stopped by and picked up a pen.
The product lineup currently consists of a number of barrels and two nibs: 0.5mm and 0.8mm. A Shion representative told me that the broader nib was designed with shimmering inks in mind.
This is a major selling point, as shimmering inks are popular in Japan. Glass pens often have problems with both pigmented and shimmering inks, as recently pointed out by venerable glass pen maker Sase in a tweet that caused a lot of stir.
Update: This is overly simplified and inaccurate. Whether pigmented and shimmering inks get stuck depends on the shape of the grooves, as explained in Shumi no Bungubako vol 58 (Kindle Edition), page 27. Glass nibs are not inherently unsuitable for these inks, and lettering artists such as Moe frequently use glass pens with shimmering inks.
While I was tempted to buy a Drillog at TIPS to take a closer look, the price put me off at the time. However, I kept following Drillog on Twitter. In May, they announced that they would participate in Japan's Hometown tax program, in which taxpayers redirect residence tax to rural areas in exchange for "gifts". So, I decided to participate, did the paperwork and chose a Drillog as my "gift".
Last week, I finally got my Drillog, an orange Classical Spiral with an 0.8mm nib. This is one good-looking pen. The twisted, faceted barrel looks a bit like a metal version of a Nakaya Decapod Twist.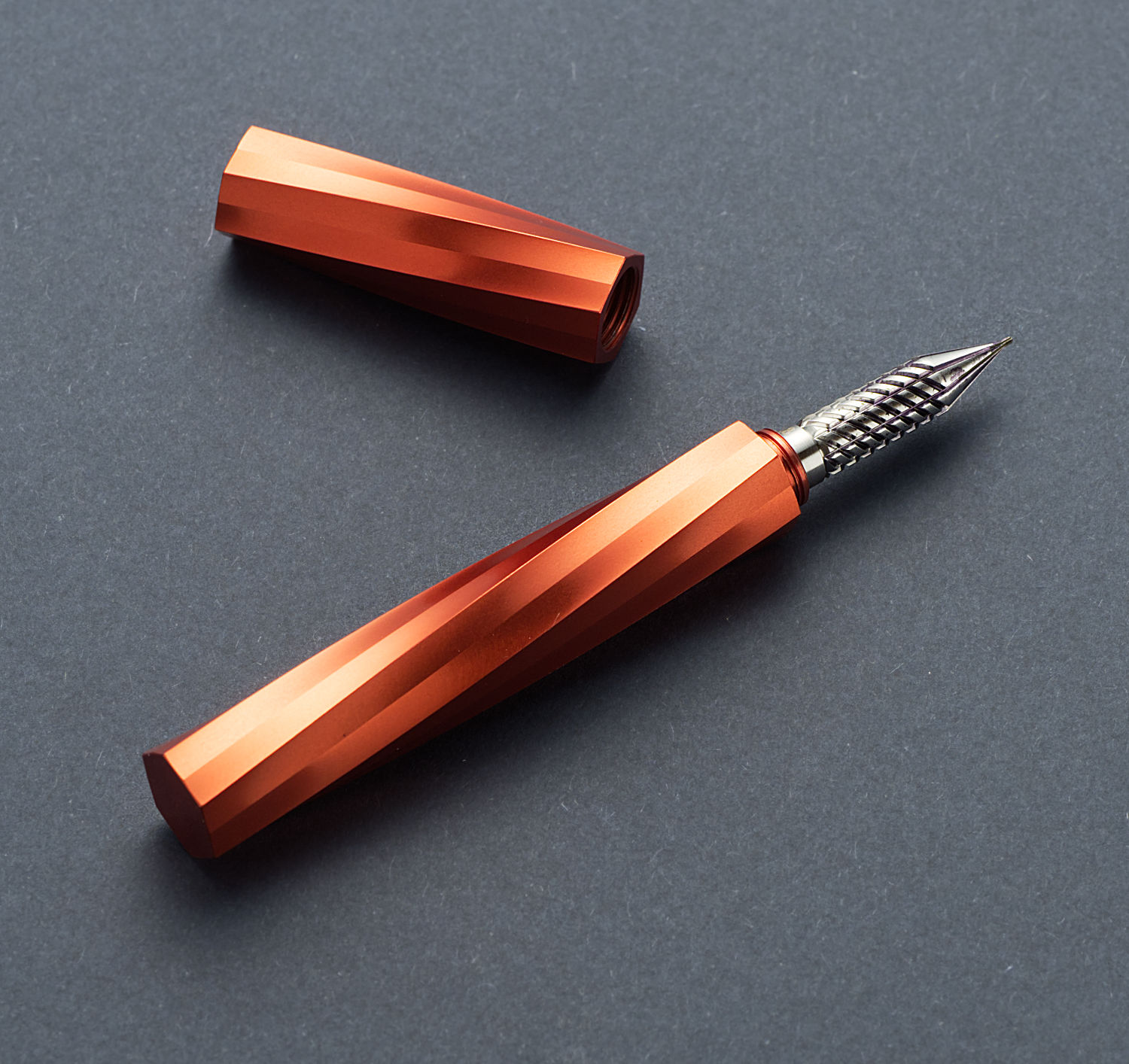 However, unlike a Nakaya, this Drillog doesn't have a section. You grip the sharp, faceted barrel directly. This pen is also quite short and does not post. Overall, I found this pen uncomfortable and difficult to write with. In hindsight, another model would have been a better choice.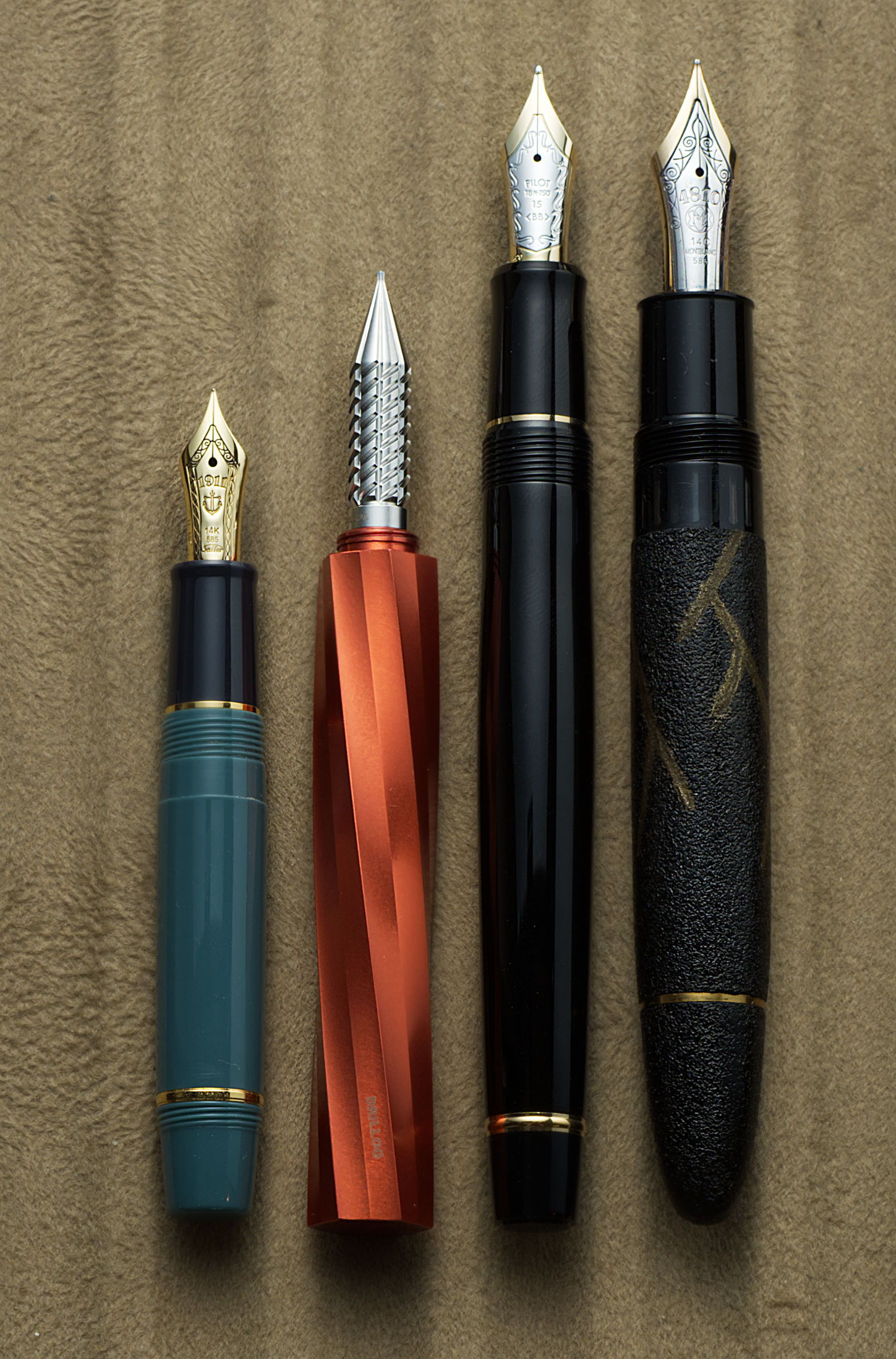 The 0.8mm nib has noticeable feedback, even with a feather-light touch. If you press harder, it is outright scratchy. Personally, I enjoy a bit of tooth, as long as the feedback is consistent, but this nib is borderline too much for me.
The entire pen is built like a tank. If you want to bring a dip pen to a pen meetup, this would be a great choice. It also has removable nibs. While there are only two nibs widths to choose from at the moment, Shion representatives have already hinted that more is coming.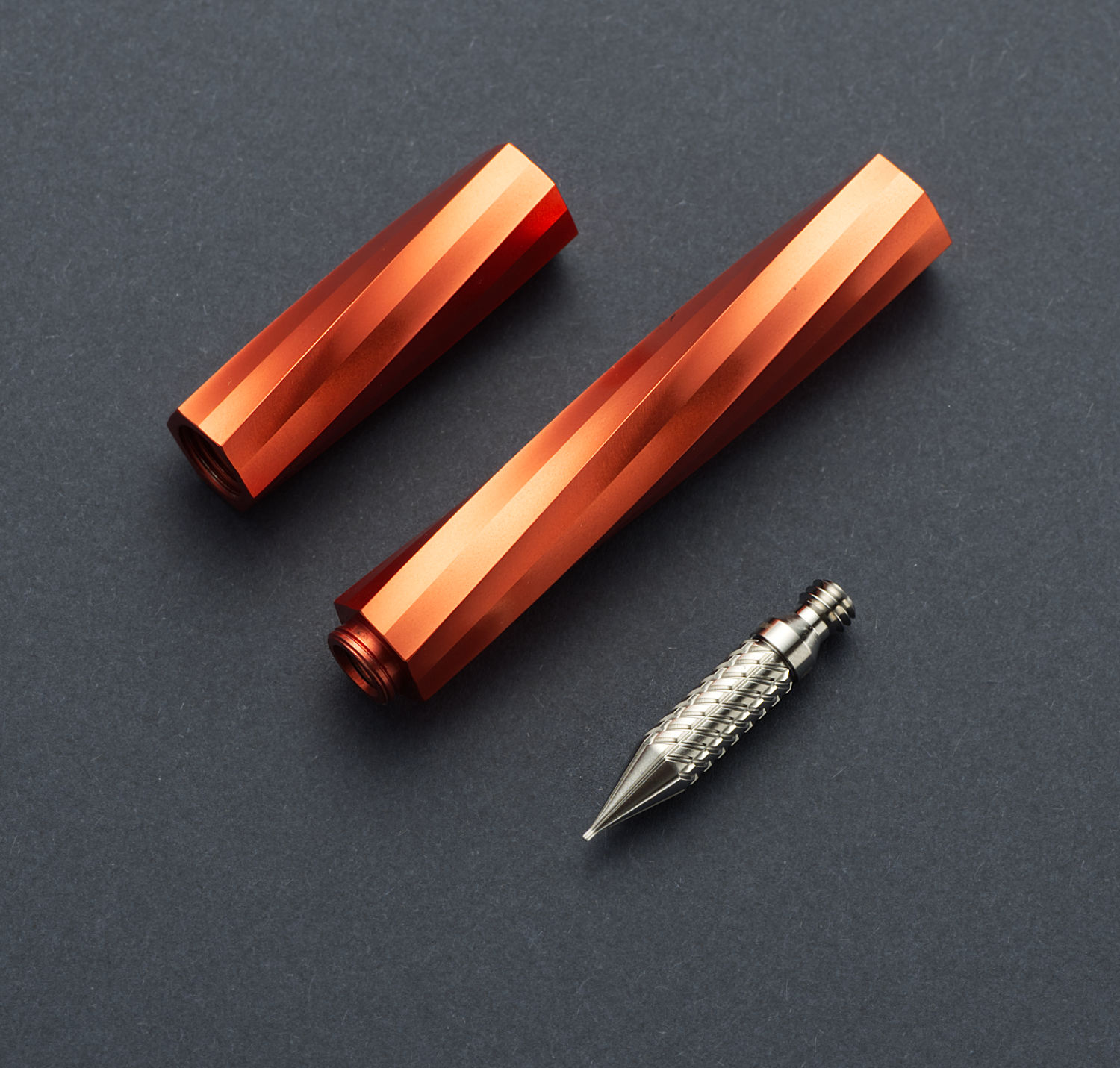 To test how much ink my 0.8mm nib could hold, I dipped it in a bottle of Itoya Cocktail Evening Rose and started writing in a B5-ish notebook. At first, the nib laid down a wet, almost 3-dimensional line, as is typically the case with glass nibs too. A few lines later, it looked closer to something written with a fountain pen nib. After writing about half a page, the lines were getting faint. I then rotated the nib a few times and got a bit more ink. Finally, with only about 1/6 of the page still blank, the nib was dry.
While I didn't have a real glass nib to compare it to, I did have a cheap and cheerful Moonman N6 with an acrylic "glass nib" of similar width. So, I repeated the experiment with this pen, and to my surprise, I could write even longer with the Moonman. I did this experiment twice, with both pens. Then I did it again, this time with Pilot Blue Black. Same result.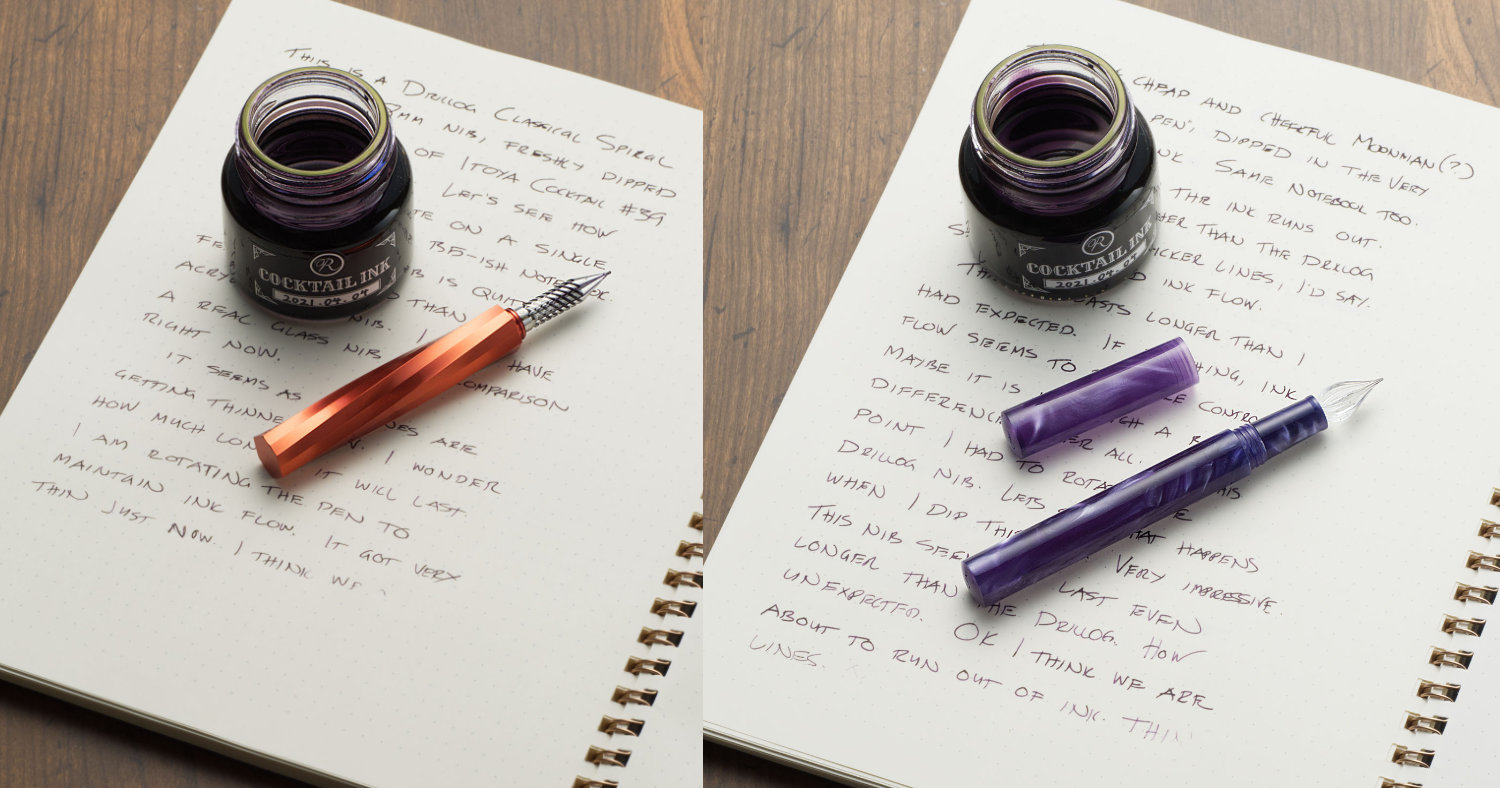 Update: After doing additional tests, I have found that certain inks let me write longer with the Drillog and with a more controlled ink flow. In particular, Pelikan Blue Black. According to Shumi no Bungubako vol 40 (Kindle Edition), page 49, Pelikan's and Pilot's Blue Black inks have almost the same viscosity (0.95 vs 0.97 mPa·s) but Pelikan's has significantly higher surface tension (63.03 vs 48.51 nM/s). My theory is that the light, watery Tono & Lims inks that are so popular in Japan also have relatively high surface tension, and that this 0.8mm nib may have been tested with and optimized for such inks.
Update 2: I have since also compared the Drillog to a "real" glass pen, a Sourire, and it consistently outperformed the Drillog. Additionally, the Sourire glass pen has a more comfortable barrel and pleasant writing feedback.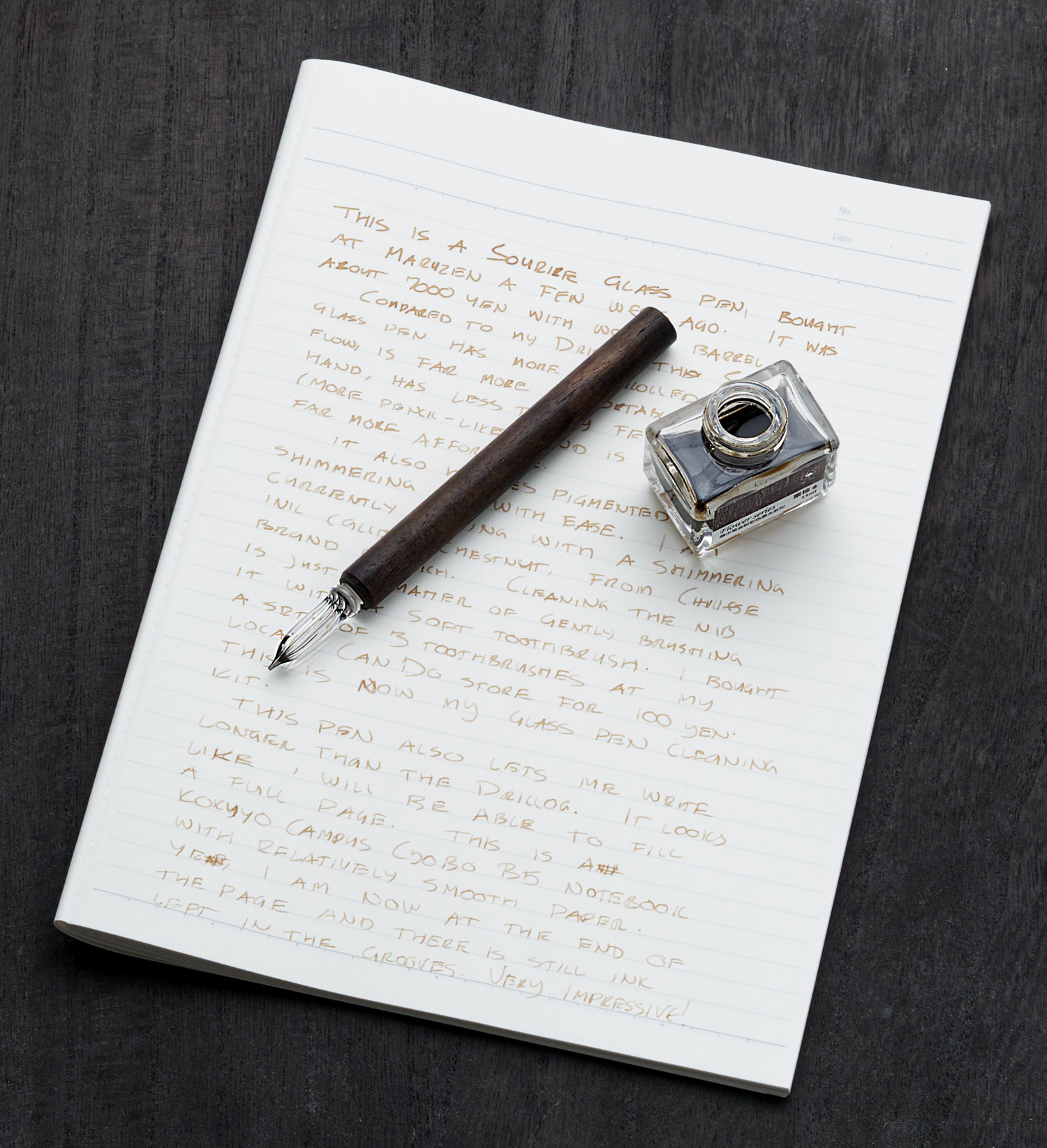 To be honest, I am struggling to give the Drillog a thumbs-up. Yes, it looks cool. It is also suitable for pen meetups, but the same can be said about the more affordable yet better-performing Moonman. Meanwhile, artisanal glass pens offer a more pleasant writing experience, can hold inks longer, and do not necessarily choke on shimmering inks, as I incorrectly concluded in an earlier version of this review.
If you love the shape and don't mind the hefty price tag, then give it a try. However, if you're looking for a dip pen for ink testing, I would instead recommend exploring the world of glass pens, including brands such as Hase, Sase, Toos, Shoko Yamazaki, Kan Seifu, Sourire, Kawanishi, Kemmy's Labo, and Matsubokkuri.
Drillog pens are now available overseas, via a Kickstarter campaign. As of this writing, it's already funded.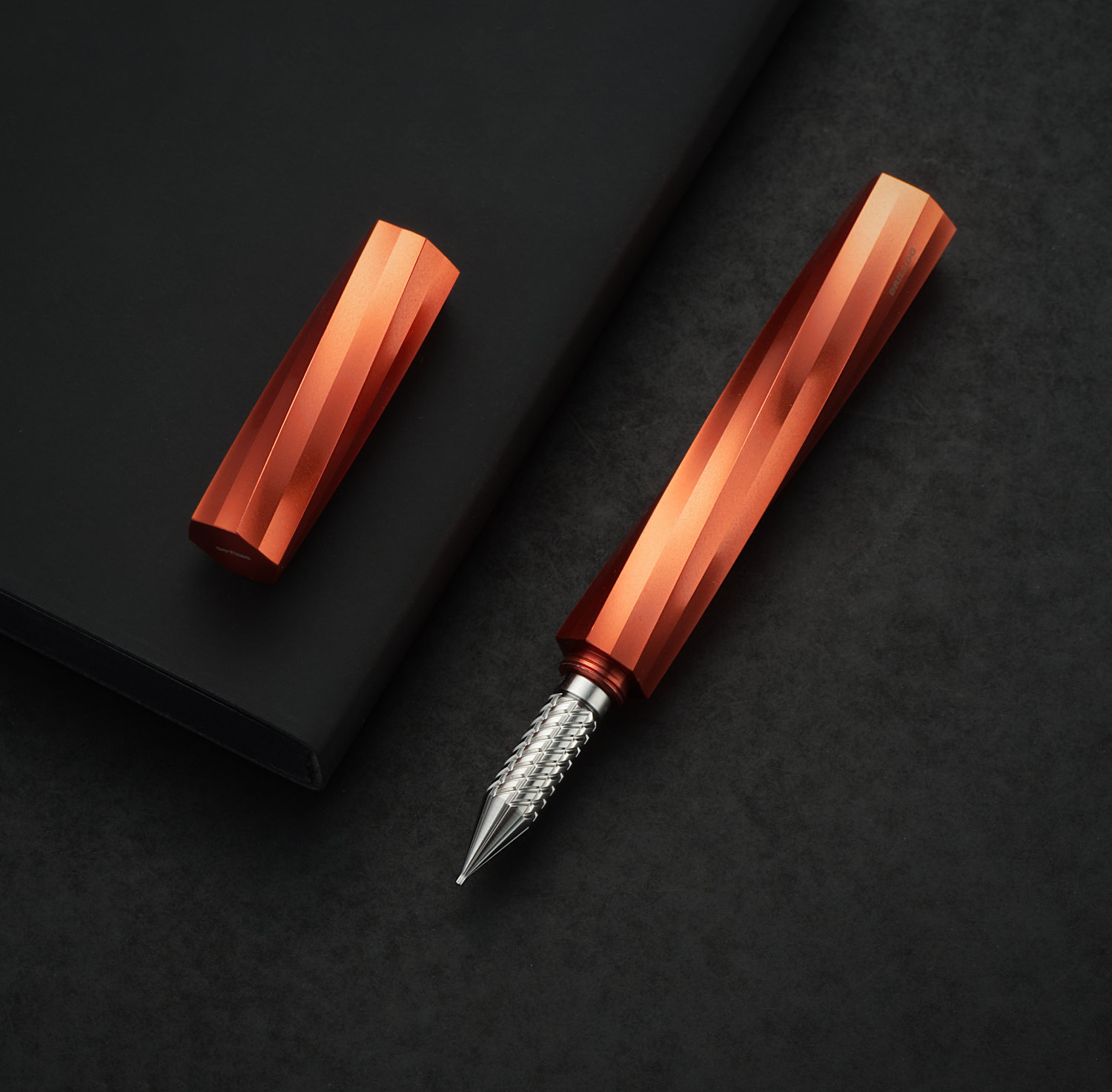 ---
Updates:
2021-07-01: New paragraph about inks and surface tension.
2021-07-12: Link to Kindle edition of Shumibun vol 40.
2021-08-10: New information about glass nibs and pigmented inks, comparison to a real glass nib, and updated conclusion based on these findings.
#review #pen #drillog #dip pen #tokyo international pen show #tips 2020