Eboya Houga, an ebonite pen handmade in Tokyo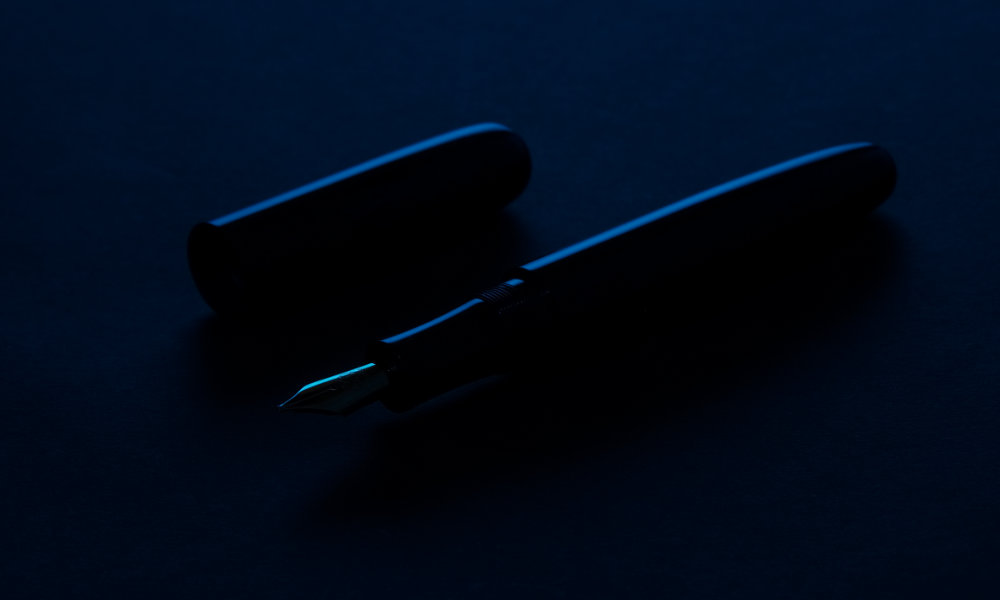 Eboya is a Tokyo-based pen maker that has been around since 2009. Their specialty is pens made of ebonite, polished on traditional rokuro lathes. Eboya's parent company is Nikko Ebonite, the only producer of ebonite in Japan.
Eboya has seven pen fountain pen models, including the Onoto-inspired Kyouka, the bamboo-like Ricchiku, and the torpedo-shaped Houga. Each model is available in several types of marbled ebonite, in small, medium, and large sizes, with an appropriately-sized 14K Bock nib in F, FM, M, or B.
Previously, Eboya offered "Japanese-style" inki-dome eyedropper filling systems. However, since one of their craftsmen, Kanesaki-san, left and set up his own shop, Eboya only does cartridge/converter pens. My understanding is that there is a plan to resume eyedropper production eventually.
At department store Mitsukoshi's pen fair this year, Eboya sold a limited edition Houga called Manten I looked at it, loved the size and balance of the pen, but had just bought another pen at Maruzen, so I passed.
However, Eboya was now on my mind. So, a few weeks later, I visited their small store in a nondescript Arakawa neighborhood. This shop has several model/size/color combinations on display and available for testing and purchase. Others can be custom-ordered, but it takes at least four months.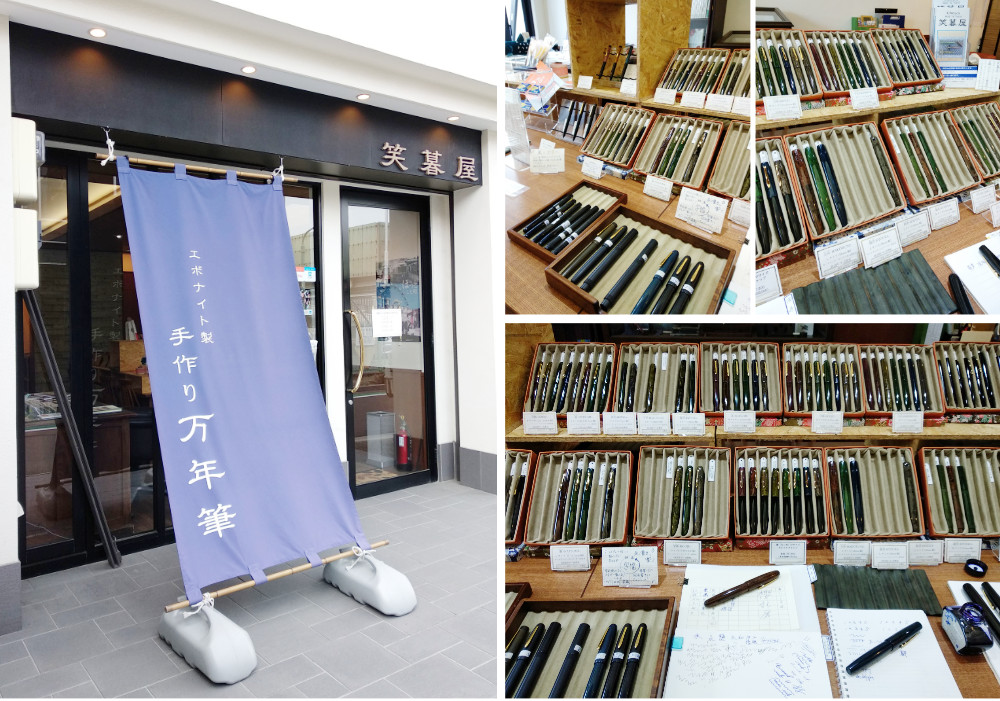 After looking at the various models for a while, I made up my mind: A large-size Houga in dark blue shinkai finish, with a broad nib. This pen originally had a different nib, but they swapped it for me, after which I was offered to do a final dip test to make sure it wrote well.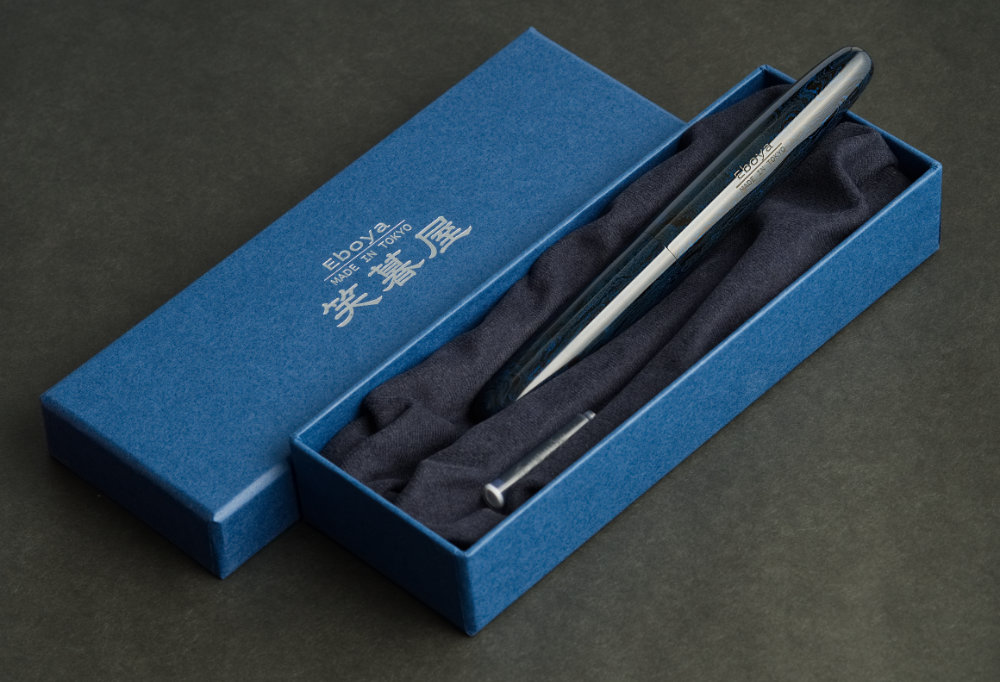 At 15cm capped, this is a large pen, and it has a girthy section that large hands will find comfortable. Balance is good, and the pen weighs just over 30g. Ebonite gives it a pleasant warmth in hand.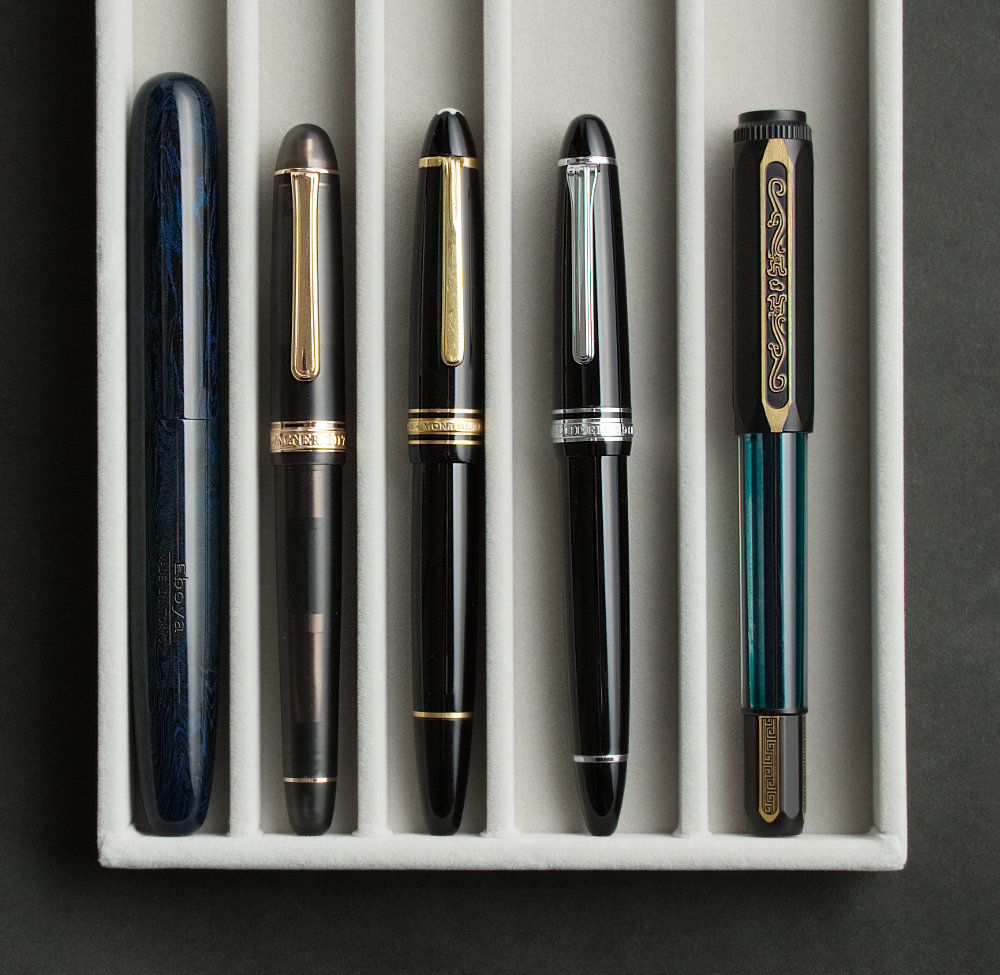 The whole pen is just beautiful, with its highly polished, marbled ebonite. Every aspect of the pen seems to be well-made. Threads are smooth, cap and barrel line up perfectly, and here's no blemish, no rough spots, anywhere.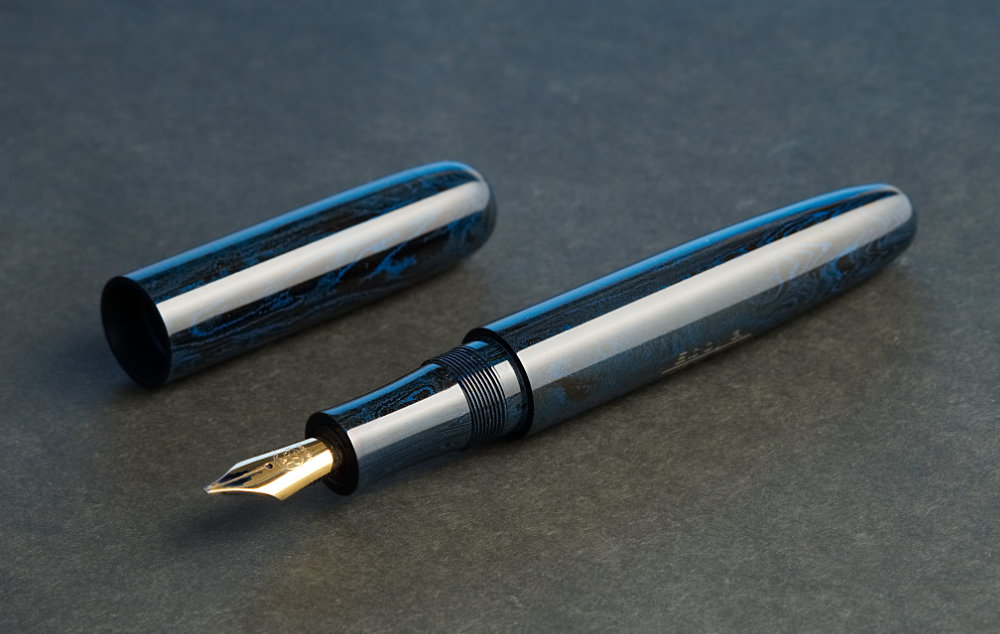 There is an engraving on the barrel: Eboya, Made in Tokyo. Not everyone likes those barrel engravings, but at least it's fairly subtle, and only noticeable under certain lighting conditions.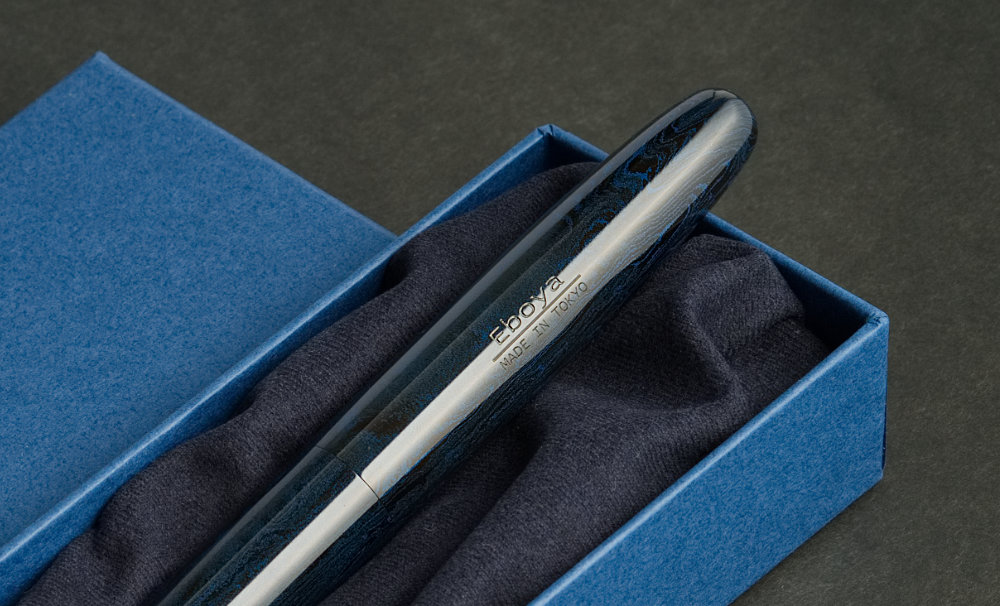 This Bock nib, a #6 (type 250) 14K broad, is surprisingly stubbish. Writing normally, it reminds me a bit of a juicy music nib, and upside down it's akin to a fine cursive italic. I don't believe Eboya does any adjustments beyond basic QC, so it may be how all Bock 14K broad nibs behave. Either that, or I somehow got a custom grind. Regardless, it is a lovely writer.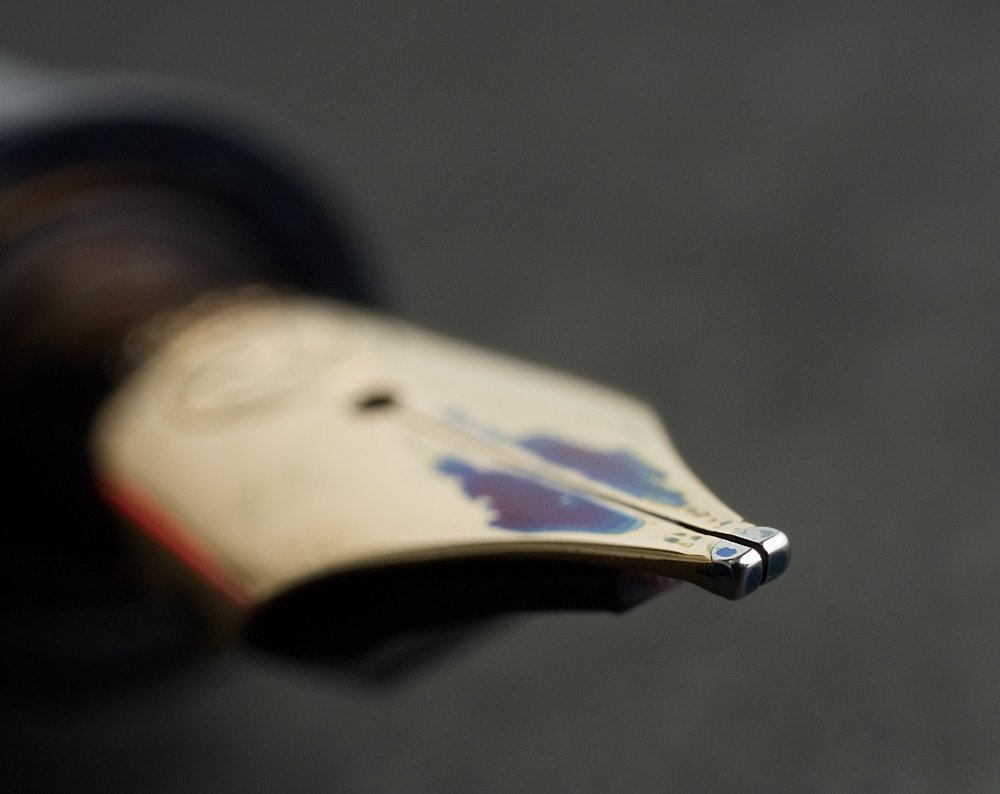 There's no Eboya imprint on the nib, just the standard Bock logo. Custom nib design may not be feasible at the small scale Eboya operates at. (Although, pen club Wagner's annual limited edition pens, which are produced in hundreds, always have elaborate, custom nib designs. However, those are not Bock nibs.)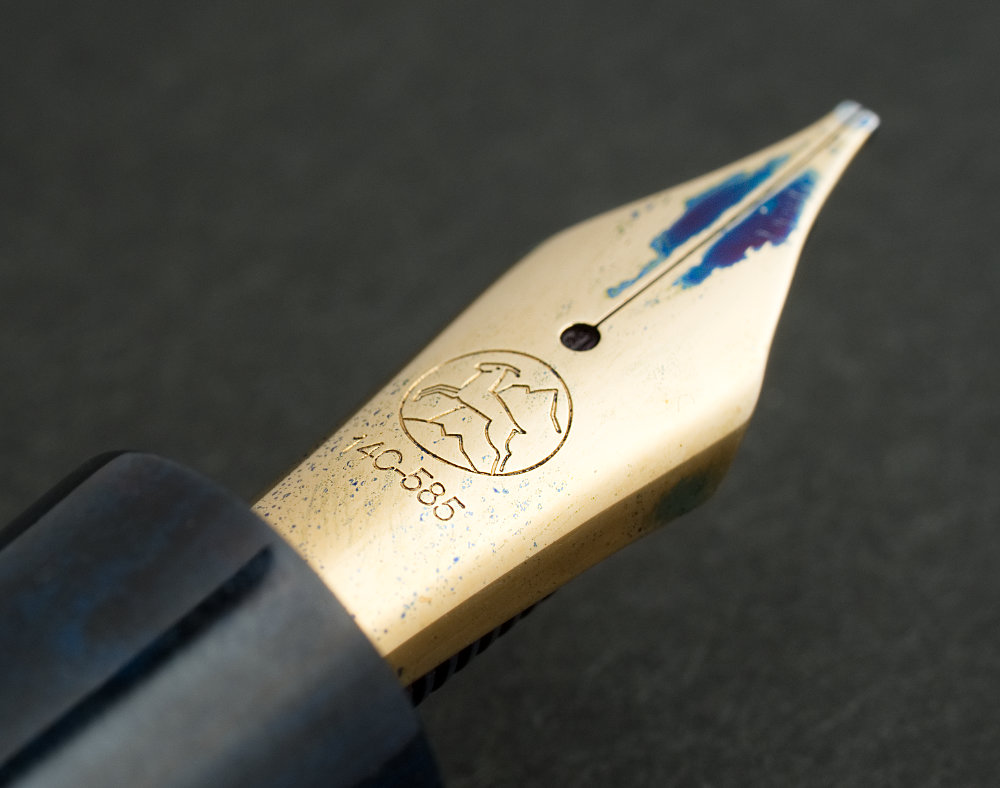 While Eboya only offers Bock nibs, one interesting third-party option is custom housings from Flexible Nib Factory, which should make it possible to fit a Sailor, Platinum, or Pilot nib on any pen that takes a type 250 nib. This is not something I have tried myself. Yet.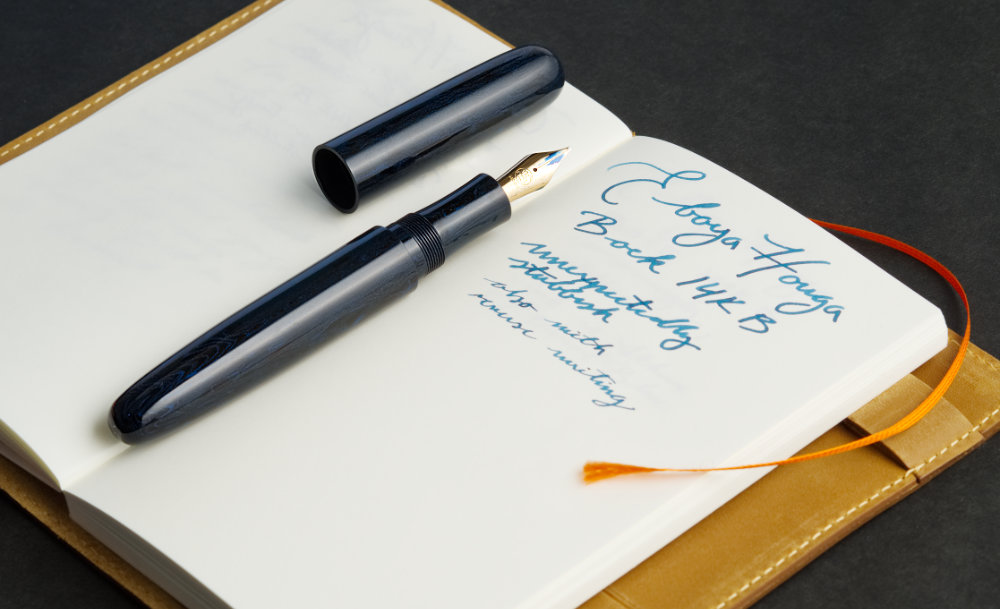 I adore this pen. The size and girth are just perfect, ebonite feels great in hand, and the finish is impeccable. It is, however, a somewhat pricey pen. A large-size Houga is 43 200 yen, which buys you a mid-range gold-nibbed pen from most major brands. What sets Eboya apart is the material and rokuro craftsmanship.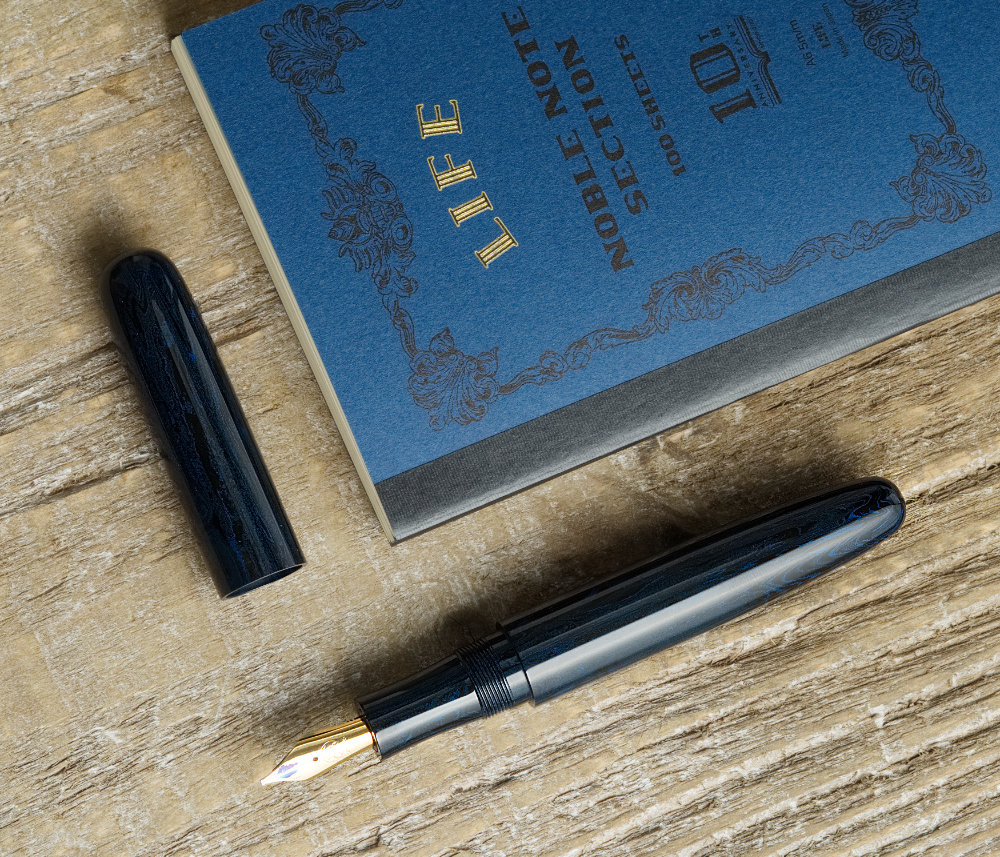 –
Eboya has an online store that does overseas shipping. Additionally, a number of EU/US retailers, including Inktraveler, Nibs.com, and Sakura Fountain Pen Gallery sell them. Finally, Eboya attends various pen shows, both domestic and overseas.
#review #pen #fountainpen #japanesepen #eboya #houga #ebonite #rokuro #handmade #monozukuri #madeintokyo