Fine Writing International Bronze Age (3rd gen.)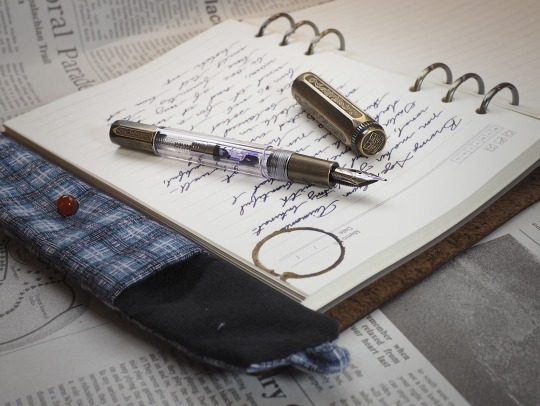 Last year, Leo of Inquisitive Quill fame posted on Reddit about a new pen called Bronze Age, from Taiwanese pen maker Fine Writing International. I was taken aback by the beauty of this pen but quickly gave up trying to purchase one for myself, as the only method of payment at the time required a bank account in Taiwan.
A few weeks ago, this pen started showing up on my Instagram feed for unknown reasons, which rekindled my interest. This time I decided to make an effort to purchase the pen, so I searched for a found this Taiwanese pen maker's website, and although I didn't understand a word, I managed to find an email address.
So, I shot them an email asking if it was possible to purchase from overseas. A week later I got a reply. Turns out it was, and they even accepted Paypal! I quickly ordered one. A mere three days later, the pen arrived via EMS.
Tucked away in a Kaweco-esque tin box covered with plenty of bubble wrap was a classy looking fountain pen with a clear acrylic barrel, flanked by a bronze cap and finial.
What first struck me was the heft of this pen. The cap alone weighs 29g and uncapped the pen weighs 26g. It's a reasonably large pen at around 14cm capped, similar to a Sailor Profit 21 (1911L).
Fortunately, the weight balance is good, and the section quite grippy. As someone who prefers a bit of heft, I find this pen quite comfortable for long writing sections.
Although the pen ships with a converter, it is begging to be eyedropper-filled. If the O-ring sealing off the clear barrel wasn't enough of a hint, the pen also comes with a syringe and filling instructions. Most photos on Instagram show this pen eyedroppered—and it looks great.
Another interesting detail is that the inner cap is spring-loaded: To cap the pen, one first has to push it slightly for the threads to align. I hear this is meant to prevent ink from drying out in the cap. So far I've been using the pen every day, but may test this thesis at a later point.
My pen was fitted with an FWI branded #6 size Jowo steel nib in Fine, which writes predictably smooth and consistent, with no hard starts or ink flow problems, but perhaps also without much character. I'm planning to replace it with a flex SIG from Franklin Christoph currently on its way across the Pacific. While I am a big fan of Platinum's and Sailor's sublime but proprietary nibs, I appreciate pens with interchangeable nibs and often swap them.
So far I'm very impressed with this pen. It is as elegant in real life as in the pictures, appears to be quite well-built, and is about a comfortable to write with as it gets.
---
Update (2019-05-06): This text is about the third-generation brass pen. There are, as of this writing, five in total (first four). The latest one is more readily available outside Taiwan:
---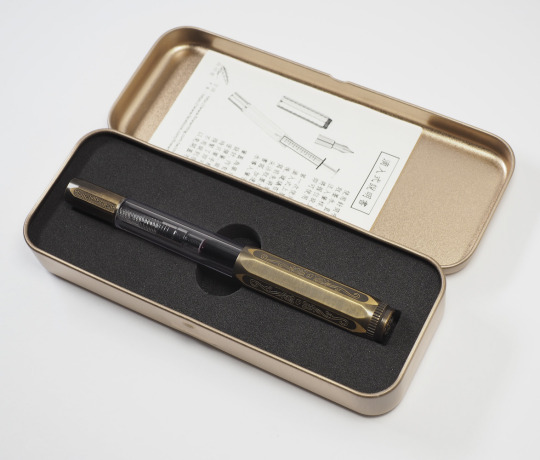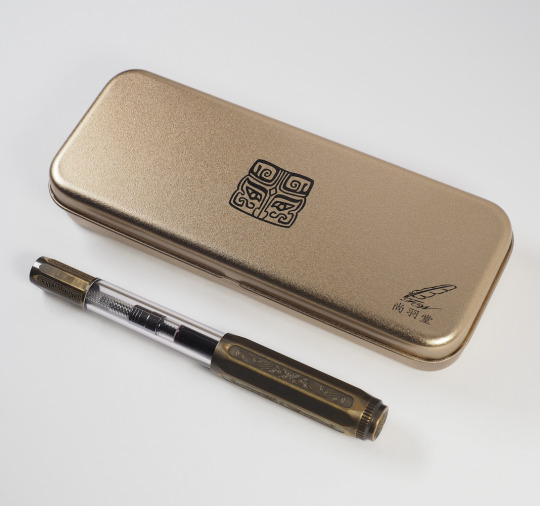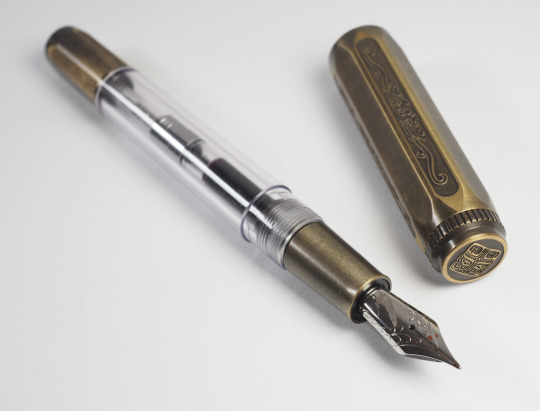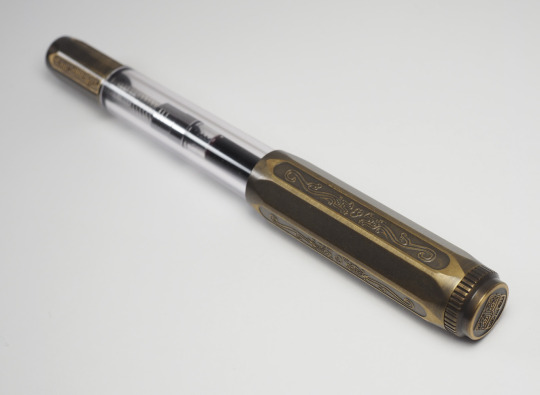 #review #pen #fountainpen #taiwanesepen #finewritingintl #finewritinginternational #尚羽堂 #brasspen #bronzeage