Golden Armour: Fine Writing International's 6th Generation Brass Pen
Fine Writing International (FWI) is a Taiwanese pen maker and stationery store. In addition to their own production line pens, FWI produces exotic, one-off urushi creations, and imports and sells foreign brands (see Inkantadora's video tour).
Until recently, FWI was relatively unheard of internationally. As late as May last year, when I got my first FWI pen, I had to order it directly from Taiwan, via email.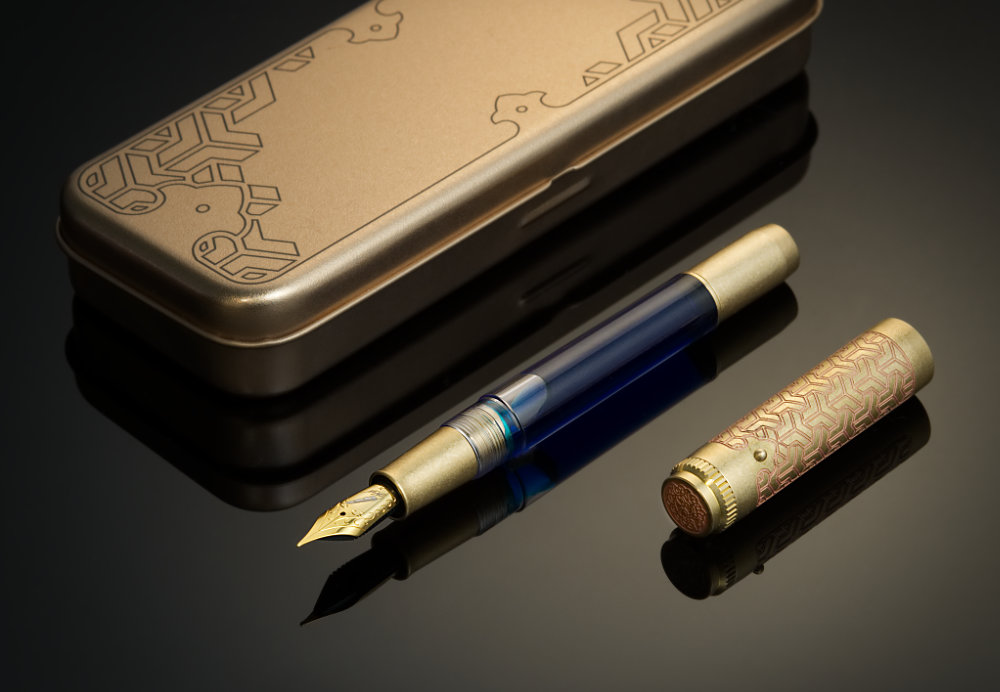 Things have changed since then. Late last year, UK retailer Write Here started carrying FWI's Planets series and brass pens, and a few months later, Yoseka Stationery jumped on board. As of last month, FWI's brass pens are also available here in Japan, at upscale department store Isetan and stationery store Pen-house.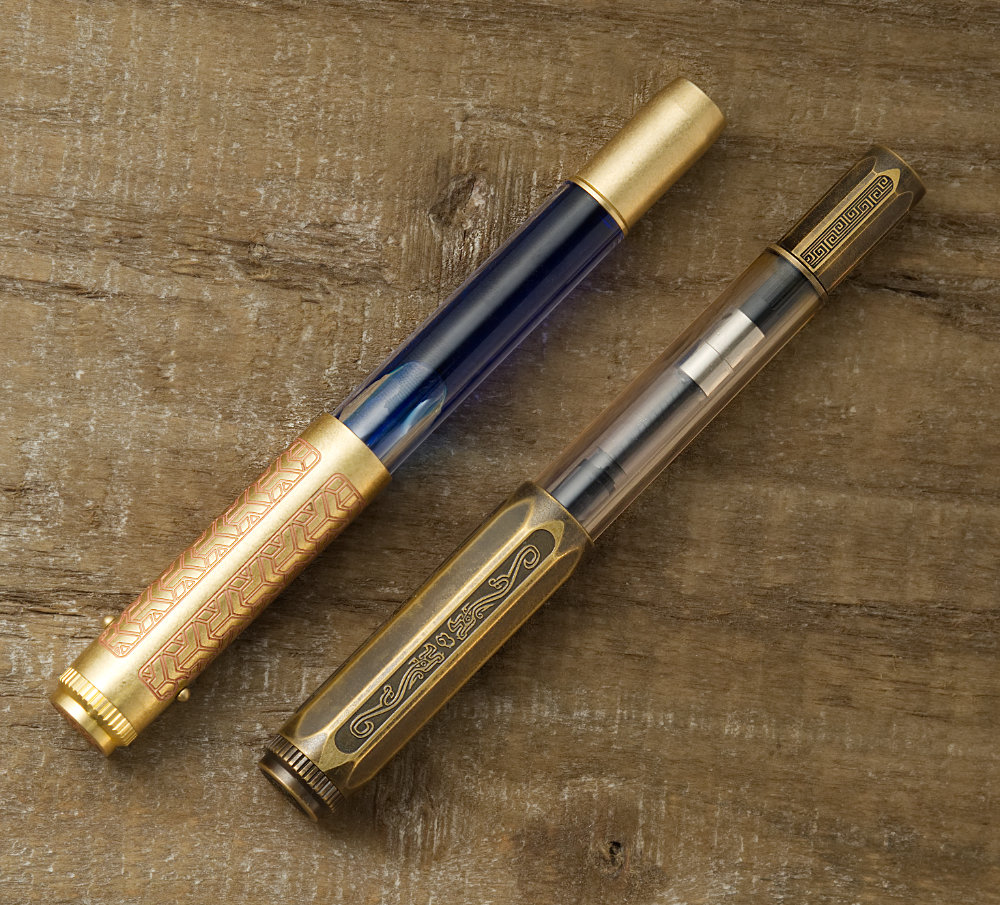 This week, FWI launched its 6th generation brass pen, called Golden Armour. Unlike previous generations, the latest one has a round cap, just like the model they produced for pen club Wagner earlier this year. Compared to Wagner's version, FWI's own model has a more elaborate cap design.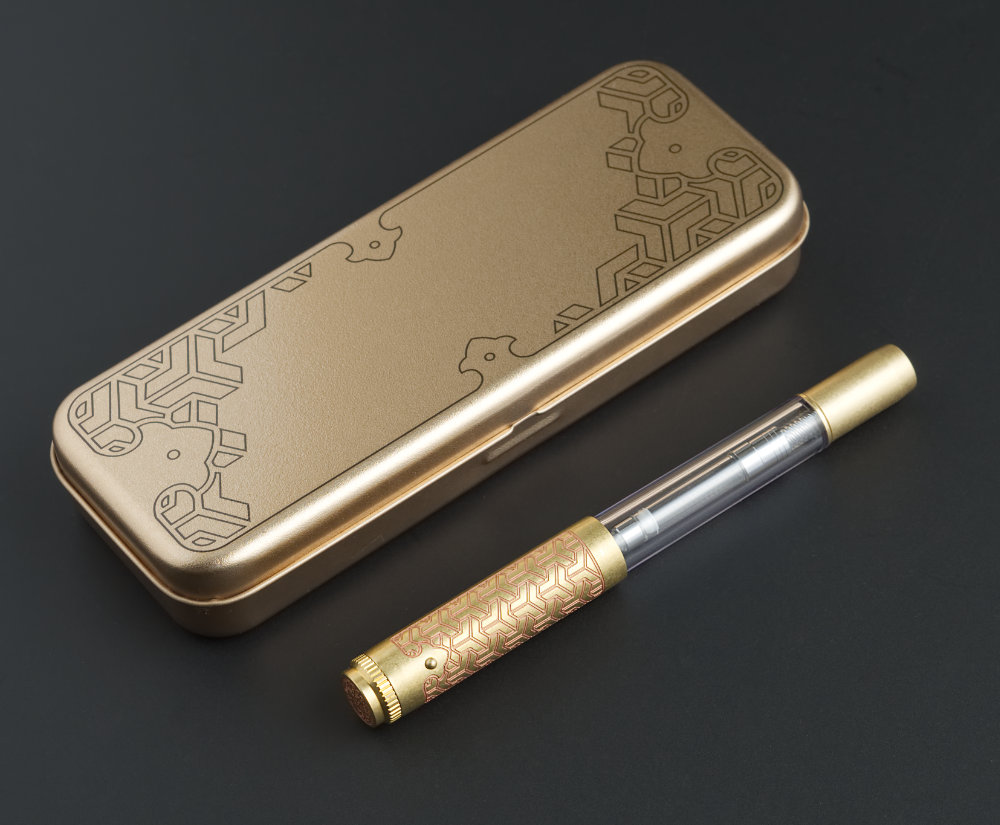 The pen comes in a neat tin box that could potentially be repurposed as a pen case. In addition to the pen, a standard-international converter is also included in the box.
As should be obvious from the design, FWI's brass pens can also be eyedropper-filled, and come with an O-ring to prevent ink from leaking. I have had several of their models eyedropper-filled, many times, without any issues.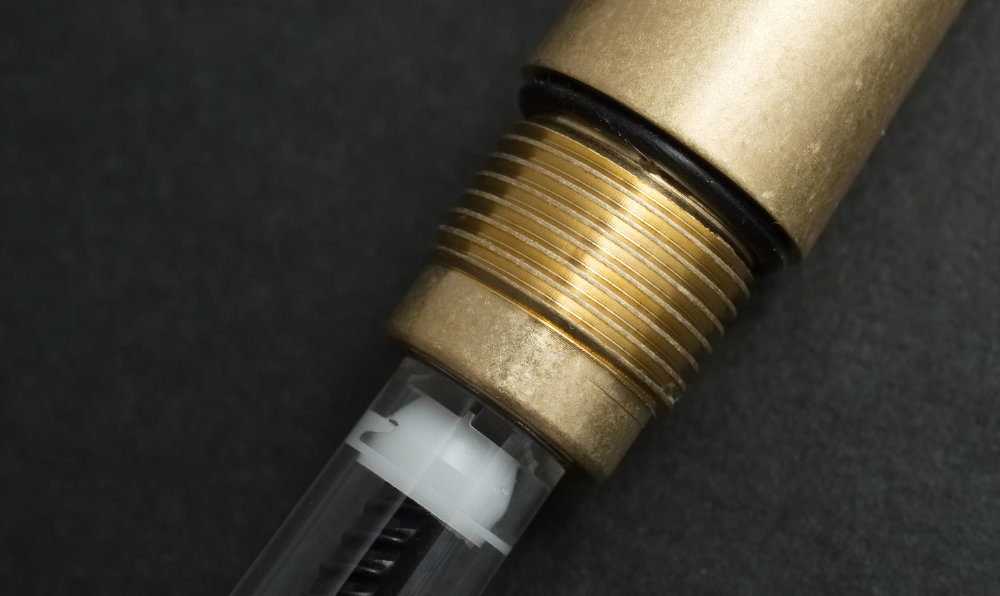 The section is comfortable: Grippy and with no step-down to speak of. Threads are not sharp either. At 60g, this is a heavy pen, but more than half of that weight is in the cap. I found it comfortable in hand, but tend to prefer slightly heavier pens.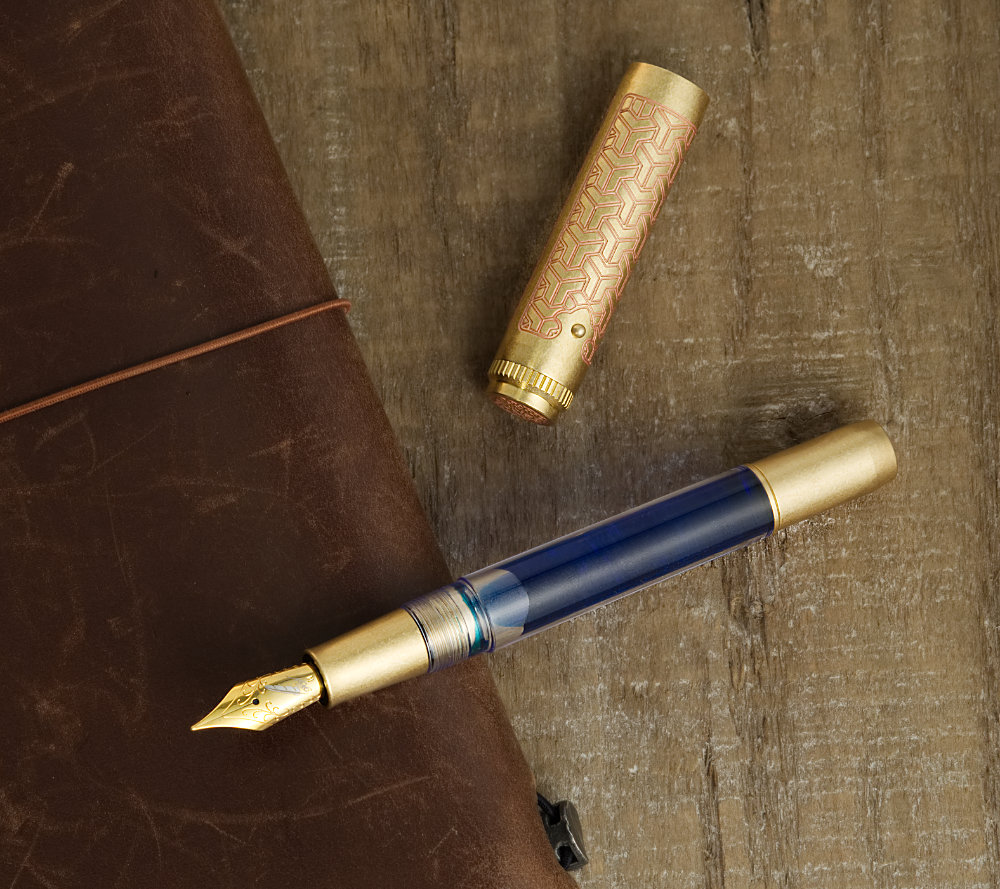 The cap looks great. It has a pattern reminiscent of ancient Chinese battle armor (or, as a friend pointed out, Mitsuya Cider), and the finial has an intricate yá zì motif, also commonly found on Chinese swords. There is an inner cap to prevent ink from drying out.
It takes about two and a half turns to uncap it. The cap does not post securely, but it would hardly make sense to post it anyway. There are two roll stoppers, allowing the pen to move a bit without ending up on the floor.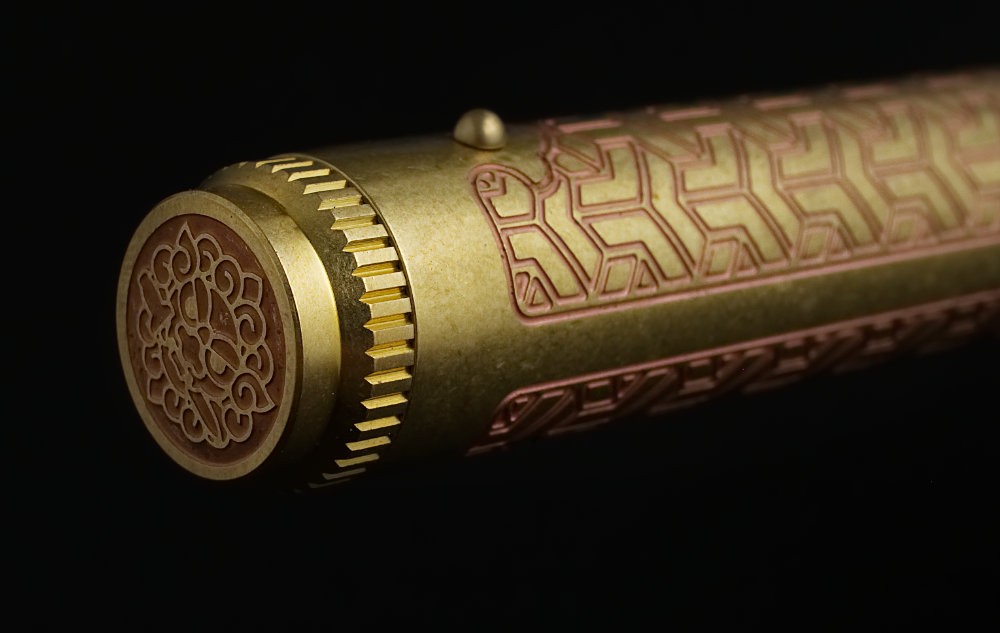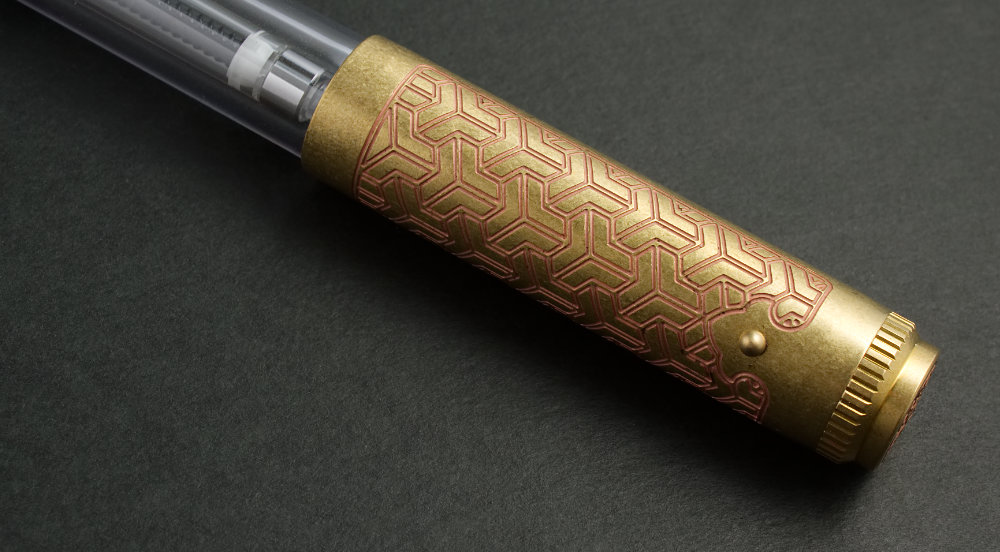 My pen came with a medium steel nib: A branded Jowo #6 that writes predictably smooth, just like Diplomat, Opus 88, Franklin-Christoph, and other Jowo-equipped pens. FWI inspects each nib to make sure it writes. The entire unit can be unscrewed easily and replaced with an aftermarket one, e.g. a semi-flex from FPNibs.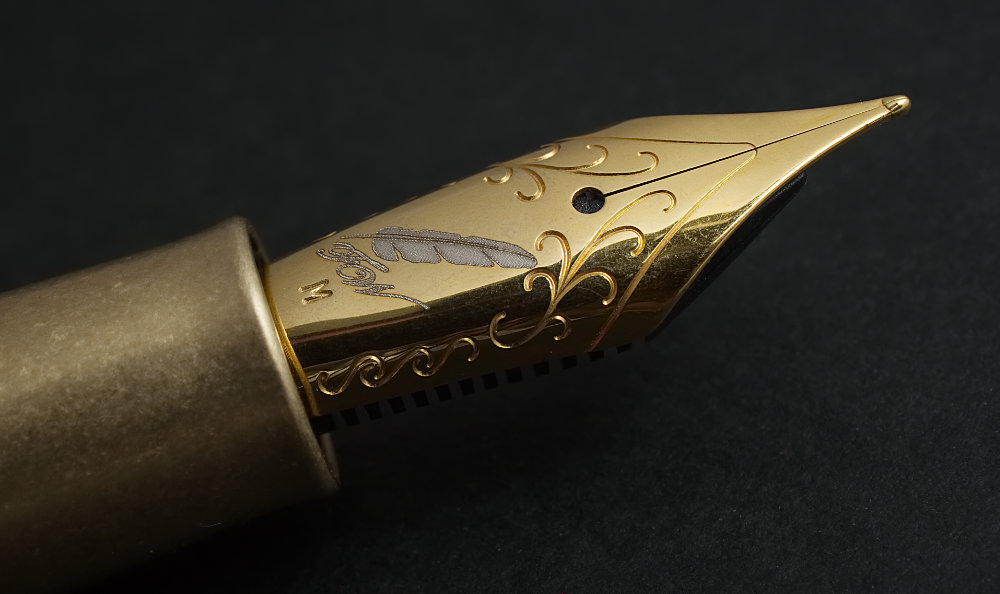 One of my favorite features of earlier models was the faceted cap, and I was honestly a bit skeptical when I heard that this one would have a round cap. However, this design has grown on me, and I do think the new cap looks great, especially with the finial motif. I can't wait to see how it'll look with a patina.
This pen is available from Yoseka Stationery in the US, and from Write Here in the UK. More retailers will follow soon.
---
Update: What happens to the metal threads when you fill the entire barrel with ink? See for yourself: Here are three different brass pens from Fine Writing International that I have eyedropper-filled many times: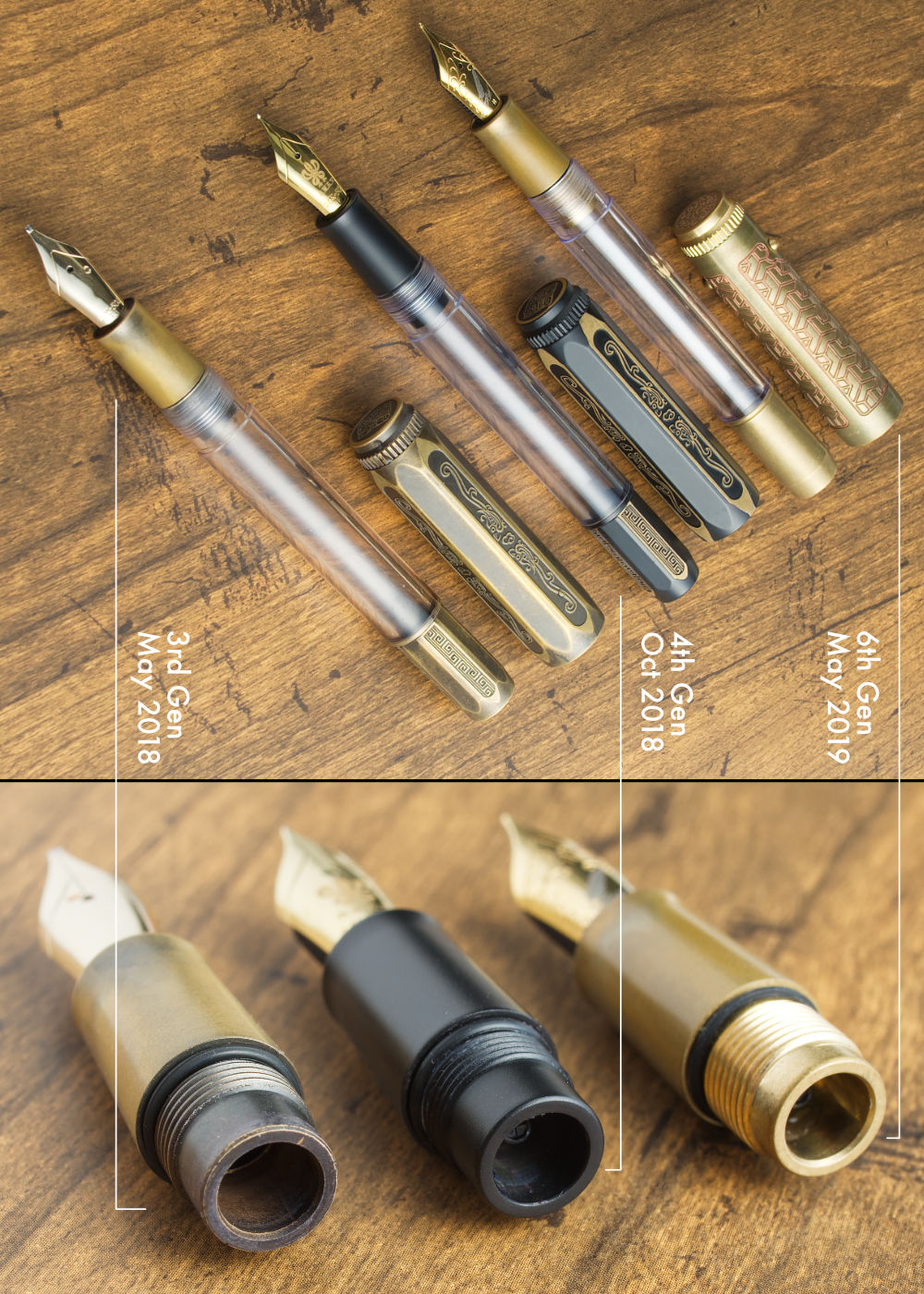 ---
Disclaimer: I received this pen free of charge.
#brasspen #fountainpen #goldenarmor #goldenarmour #review #taiwanesepen #finewritingintl #finewritinginternational #尚羽堂