Stationery events in Tokyo, autumn 2018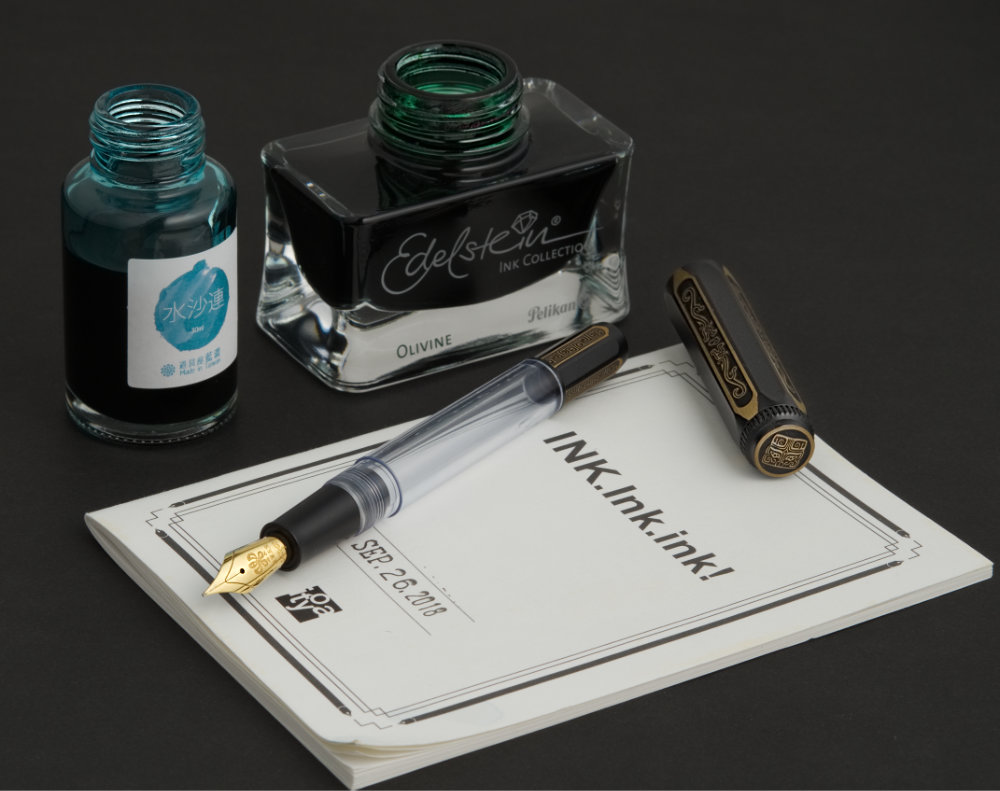 This autumn was a busy time for stationery fans in Tokyo, with no less than four events between late September and early October.
Starting it off was Pelikan Hubs. The one in Tokyo was held in trendy Meguro, in Atlas Tower near Naka-meguro station. It was my first time joining, so I didn't know what to expect, but around 20 people showed up, almost half of them foreigners.
Most people had brought far more exotic pens than I did, including vintage Pilots, rare anniversary Sailor KOPs, Bokumondoh-customized Pelikans, and more. My own pen case contained, among other pens, a vintage Sailor with soft nib, a pre-production PenBBS vacuum filler, and a pen with a Franklin-Christoph SIG flex nib. The last one garnered most interest.
There was catered food, plenty of drinks, and a generous supply of Pelikan goodies. People brought their own inks as well, and I ended up with samples of Montblanc Swan Illusion and Petit Price (thanks @miraikat!), Noodler's Apache Sunset (thanks @crystalca1970!), and Edelstein Garnet and Topaz. May have to get a bottle of Topaz eventually.
A few days later, major stationery retailer Itoya organized an ink testing event at their flagship store in swanky Ginza. After paying a 500 yen entrance fee, visitors were lent a dip pen and given a small, purpose-made ink testing notebook by Kobeha of Graphilo fame.
A thousand ink bottles were on display and available for dip testing, and many also for purchase. There were plenty of Japanese inks, of course, including more unusual ones like Pen-house's Saijiki inks and Nakabayashi's new line of blue inks. Additionally, there were brands like Robert Oster, Straits Pen, KWZ, and Colorverse. Overall an impressive lineup.
Even though I went there in the middle of the week, early afternoon, it was crowded, mostly younger people. The popularity was perhaps to be expected, as ink obsession or インク沼 (inku-numa) has recently become a thing here.
While there were far more exotic inks available, I ended up getting a bottle of Sailor Yozakura and, on my way out, an adorable Fugu notebook.
Three days later, it was time for the big one: The first ever Tokyo International Pen Show (TIPS). This one was held at a convention center near Asakusa station, known for tourist destinations like the Kannon temple.
I arrived about 20 minutes early, but there was already a long line. A show-exclusive ink, Antarctic Ocean Blue, was sold at the entrance, only 50 bottles per day, and I suspect many were hoping to get one. It sold out before I got a chance.
All the major Japanese shops and pen makers were there: BungBox, Pen and Message, Nagasawa, Kobayashi, Eboya, Stylo Art, Pen-house, and many others, selling glittery Sailors, exotic wooden/urushi/ebonite/maki-e pens and, of course, ink. Everyone and their dog had exclusive inks.
As far as I could tell, Kobayashi's booth was the most popular one, with a long queue of people waiting. I suspect that their two exclusive Sailors, Kawasemi and Suruga Bay, were in high demand.
I found myself drawn to Yachingstyle's booth, where I picked up a beautiful eyedropper from Taiwanese pen maker Fine Writing International, my second pen from this brand. I also picked up a pale blue ink called 水沙連, from Taipei-based ink studio Lennon Tool Bar. As later explained to me by @atsaichu, the name of this ink has something to do with Taiwan's Sun Moon Lake.
There were also many booths selling paper in various forms, as well as pen cases and other accessories. I purchased two notebooks, an A6 one from plus Orange and a square-shaped one from Kokuho-do.
This was a two-day show, but I was only there one day. Heavy rain and an approaching typhoon led to fewer visitors the second day.
A week later, a fourth a final event: Wagner's autumn pen show.
Wagner is a Japanese pen club that organizes various meet-ups and other events throughout the year. One of those is a pen show called 秋の泉筆五宝展, held in KFC hall in Ryogoku. Compared to TIPS, Wagner's show was much smaller and more collector focused.
There were about a dozen booths in total. A few of them were selling pens, mostly vintage (lots of Pilot Murex and sterling silver, and exotic Pelikans!), while some offered paper products and accessories.
My biggest purchase was a pen that Wagner had commissioned from Fine Writing International, and put their own nibs on. This was the very same brand I bought another pen from a week earlier, at TIPS.
Wagner commissions pens every year. Several recent ones have been from Platinum. For example, they have one with a semi-transparent, matte brown barrel, and another one with a bright turquoise one, similar to Kumpoo but more blue and saturated. They have also commissioned Sailor pens, including a realo with music nib.
Wagner head honcho Mori-san is quite an accomplished nibmeister, and sold Platinum 3776 C nibs that he had ground to naginata-togi. These very available both as nib options on their pens, and sold separately. I was very tempted to get one.
Instead, I went to yurie's booth. Yurie-san sells beautiful, handmade pen cases from traditional Japanese fabrics. I bought a pen case and got a nice extra: A homemade cookie!
Next stop was Il Duomo's booth. This is a pen store in rural Japan focusing on Italian pens. Their booth had, among other things, a Pineider La Grande Bellezza with a flex nib that I tried and was tempted by.
I also had the pleasure of meeting @inktraveler as well as blogger @brunotaut_fp of Crónicas Estilográficas fame (my favorite blog about Japanese pens). We had a fun conversation.
Unfortunately, I forgot to take photos. Again. Maybe next time.
Four stationery events in just three weeks. My wallet is still recovering, but I had an absolute blast, and got to know some really friendly and knowledgeable pen people. There is already a TIPS planned next year, and Wagner has two events coming up in December. Time to start saving!
#events #wagner #penclub #penshow #wagnerclub #fountainpen #ink #tips #tokyointernationalpenshow #pelikanhubs #itoya