Kilk Epigram: A handmade pen from Istanbul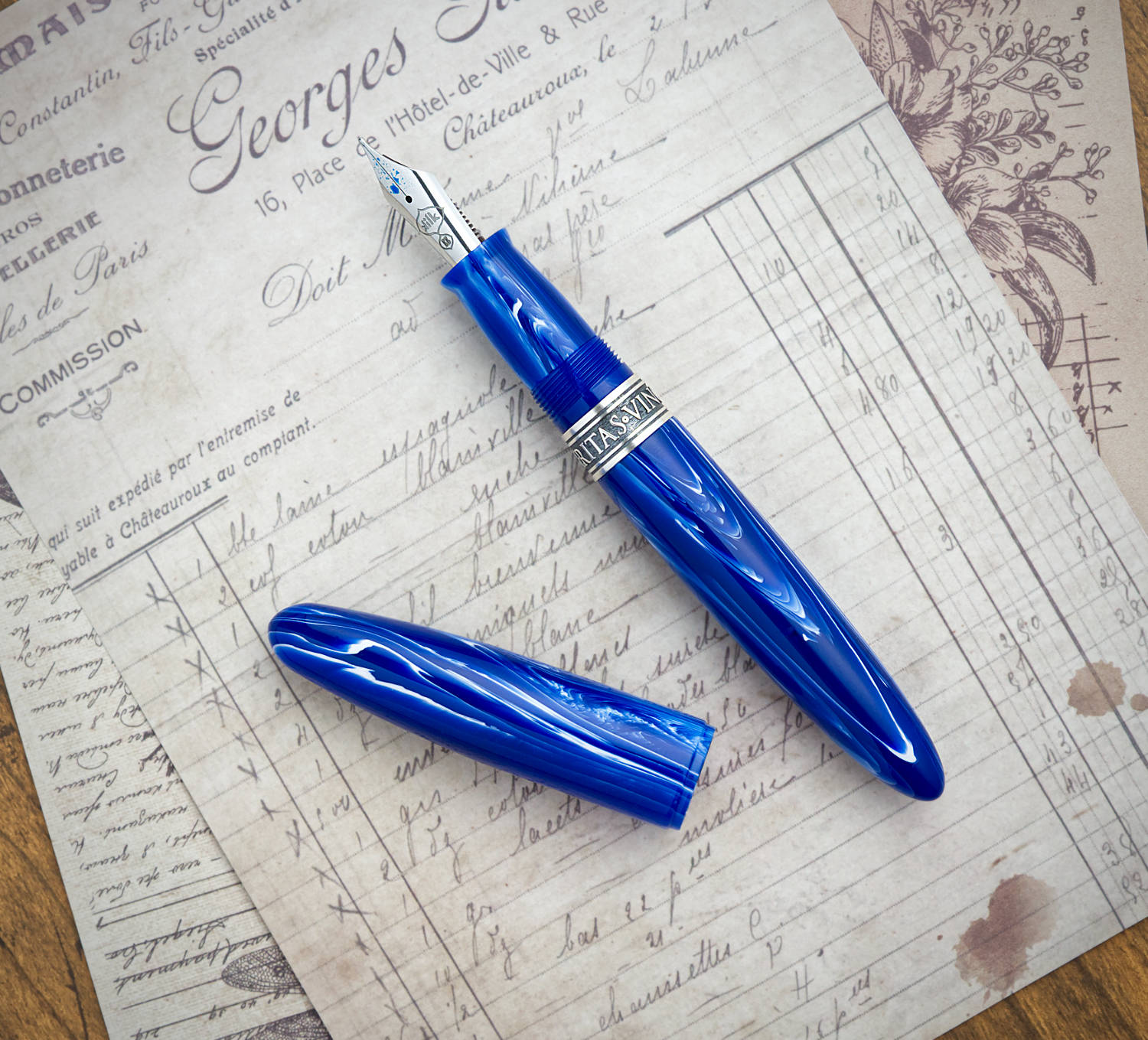 Endless Pens generously sent me a Kilk fountain pen in exchange for an honest review. Kilk is a small and relatively new pen maker based in Istanbul. I've seen Kilk's gorgeous photos on Instagram, many times, but never spotted a pen in the wild or tried one myself.
Kilk has a few regular production models, starting from the relatively affordable Epigram. They also accept custom orders for tailor-made pens.
Endless sent me an Epigram in blue with a double-broad steel nib, made by Bock. I was intrigued by the nib as I've never tried a Bock BB before. To my delight, this nib has a generous blob of tipping (although not quite as much as a coarse or zoom nib) and would be a good starting point for an aftermarket naginata-togi grind.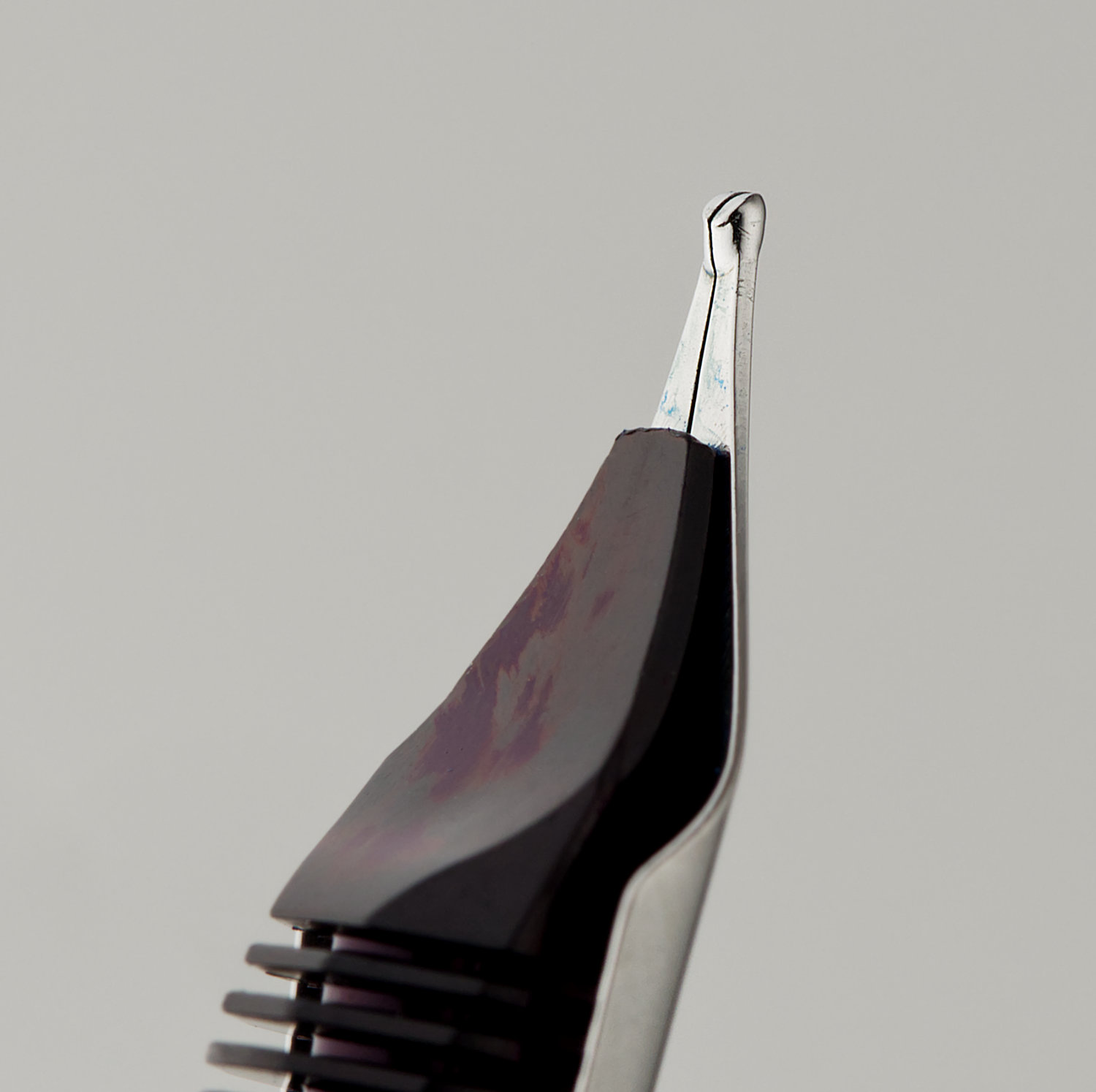 The double broad nib is plenty of fun without any custom grind, though. It lays down a thick, broad line with just a hint of feedback and seems well-tuned. Bock nibs do have a reputation for baby's bottom, but this nib has none of that. Perhaps Kilk has something to teach Kaweco about QC.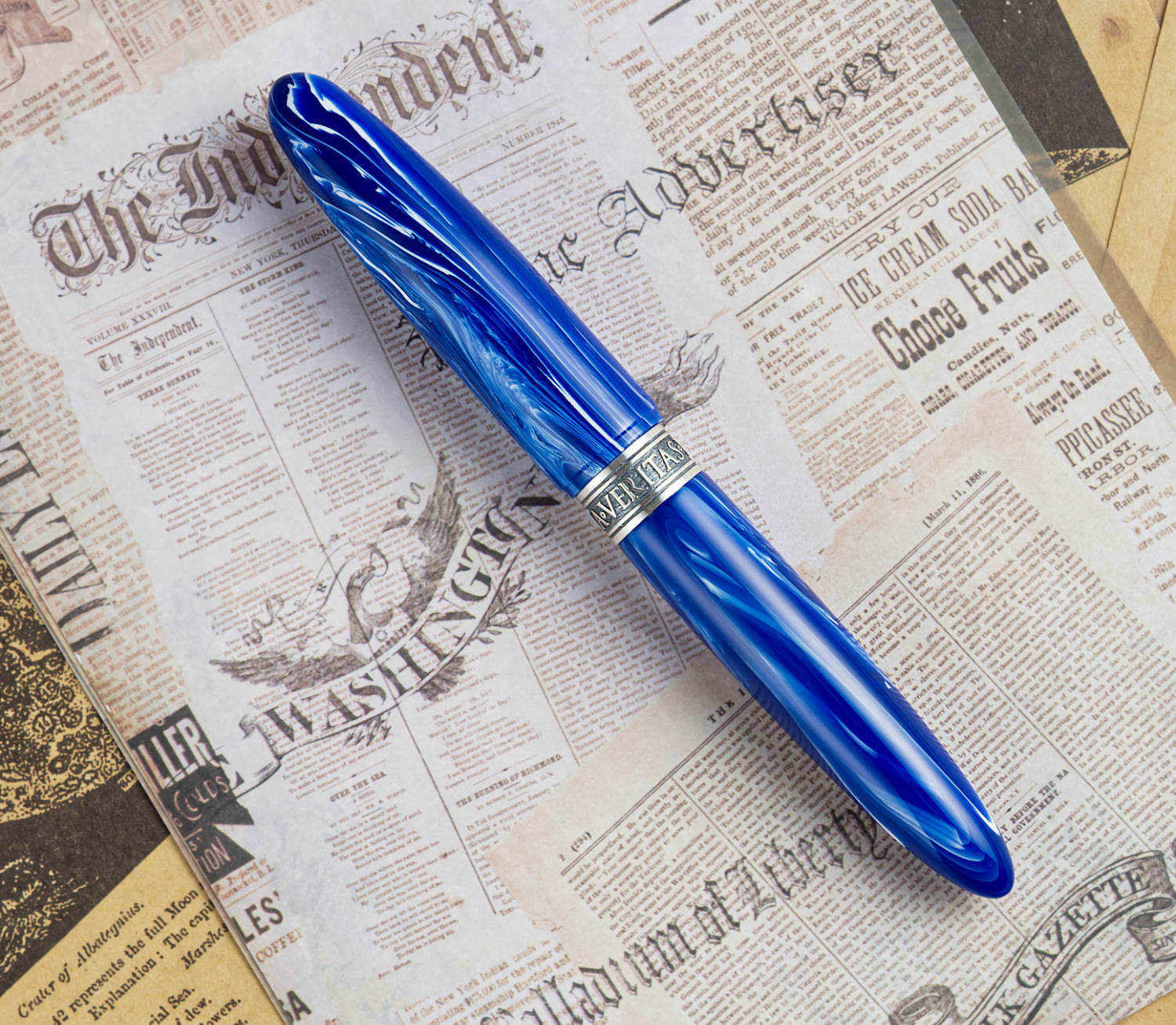 Up until recently, the pen community seemed to favor Jowo nibs over Bock. After the #jowocrackednibs debacle, the tide seems to have turned. Bock units have another advantage: Nib swapping is sometimes easier. For example, instagrammer @sophmky.notes successfully fitted the popular PenBBS No1 calligraphy nib in a Bock housing.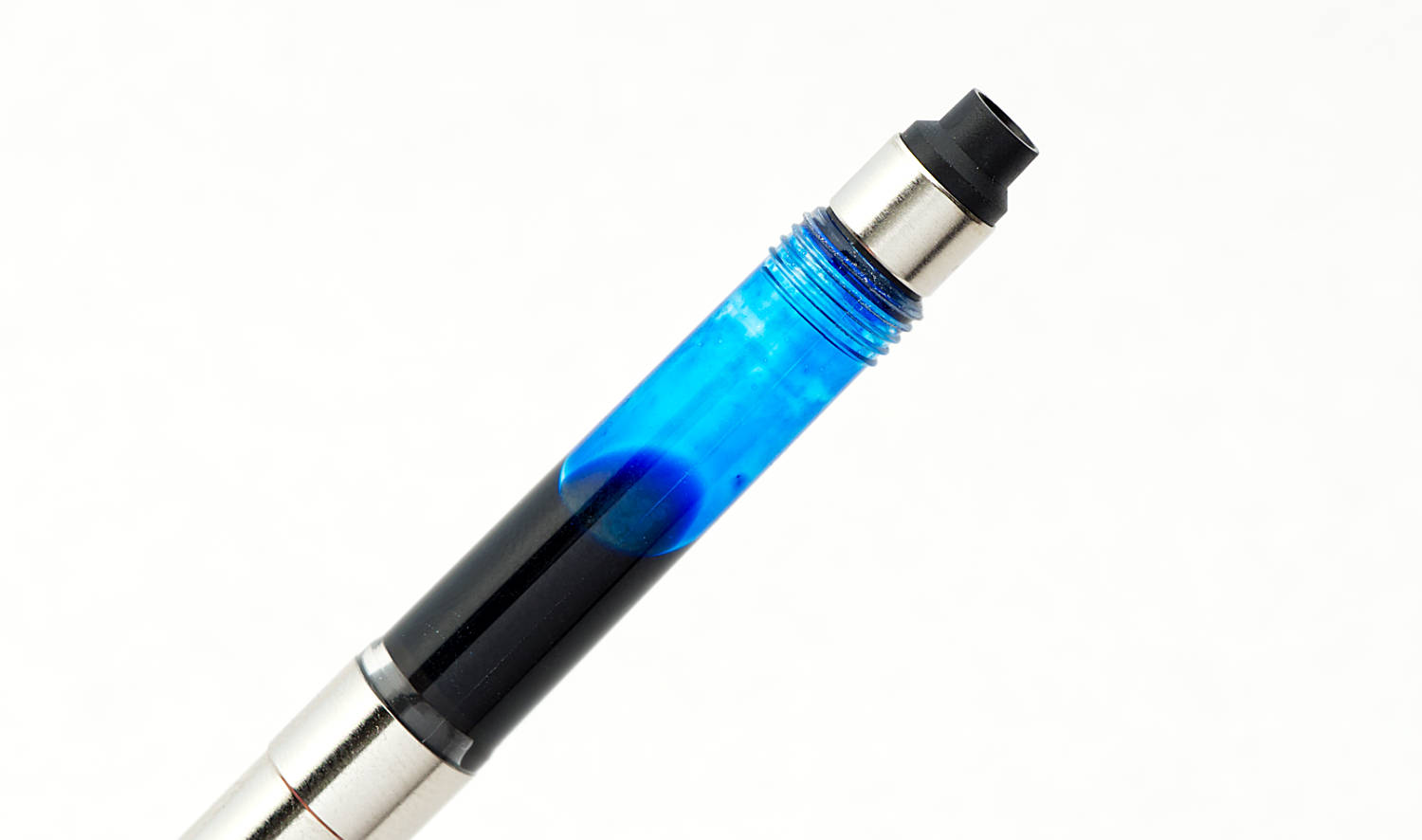 To my surprise, the included converter was a screw-in type. I haven't seen a screw-in international standard converter before. It sits very securely in place. I've never had any problems with loose converters, but, clearly, some people do.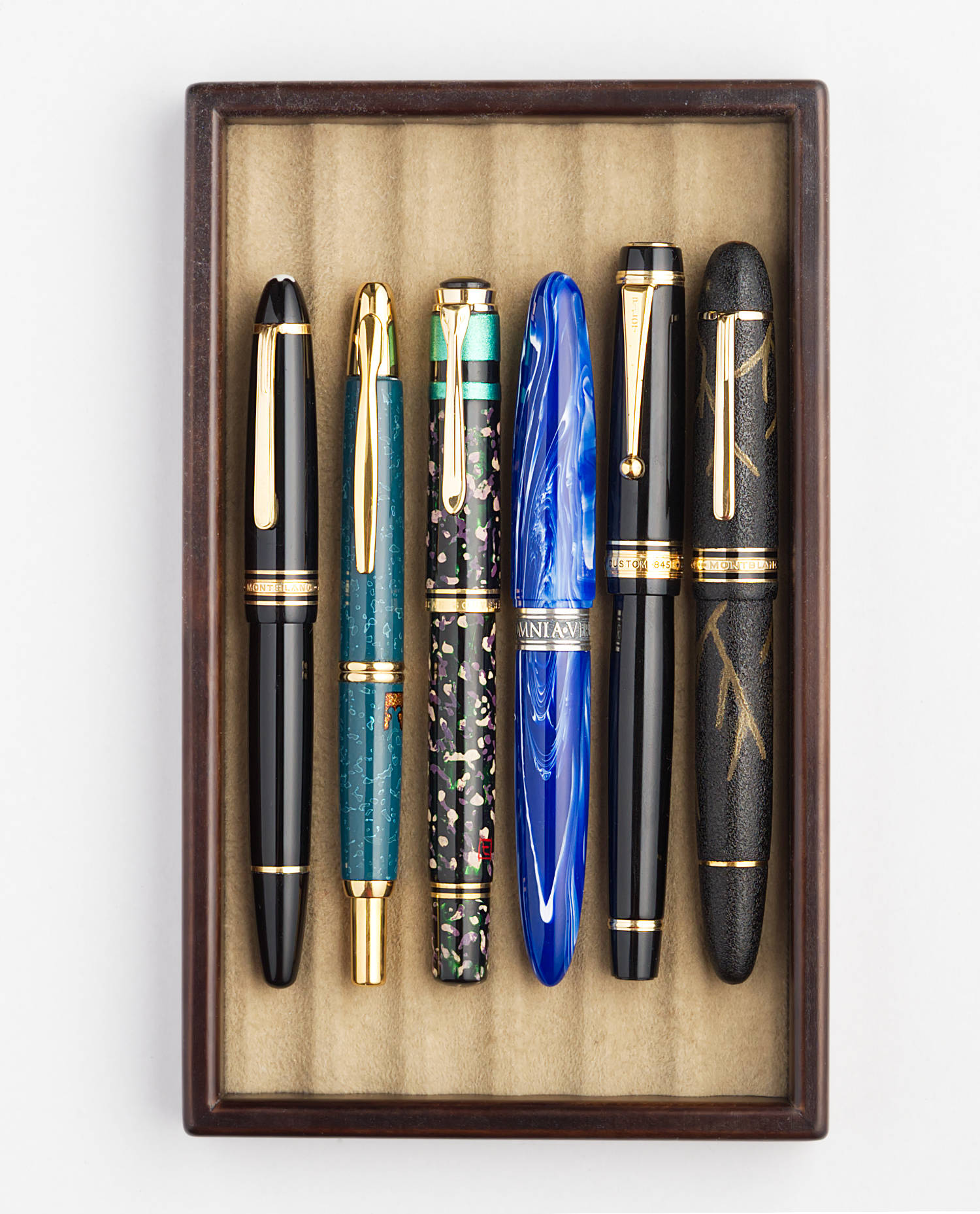 (Left to right: Montblanc 146, Pilot Capless, Pelikan M800, Kilk Epigram, Pilot Custom 845, and Montblanc 149).
This is a fairly large pen, at 145cm capped, but I wouldn't call it oversize. As podcast listeners know, I prefer pens with girthy, grippy sections and this one fits the bill. Those who prefer slender pens might want to look elsewhere.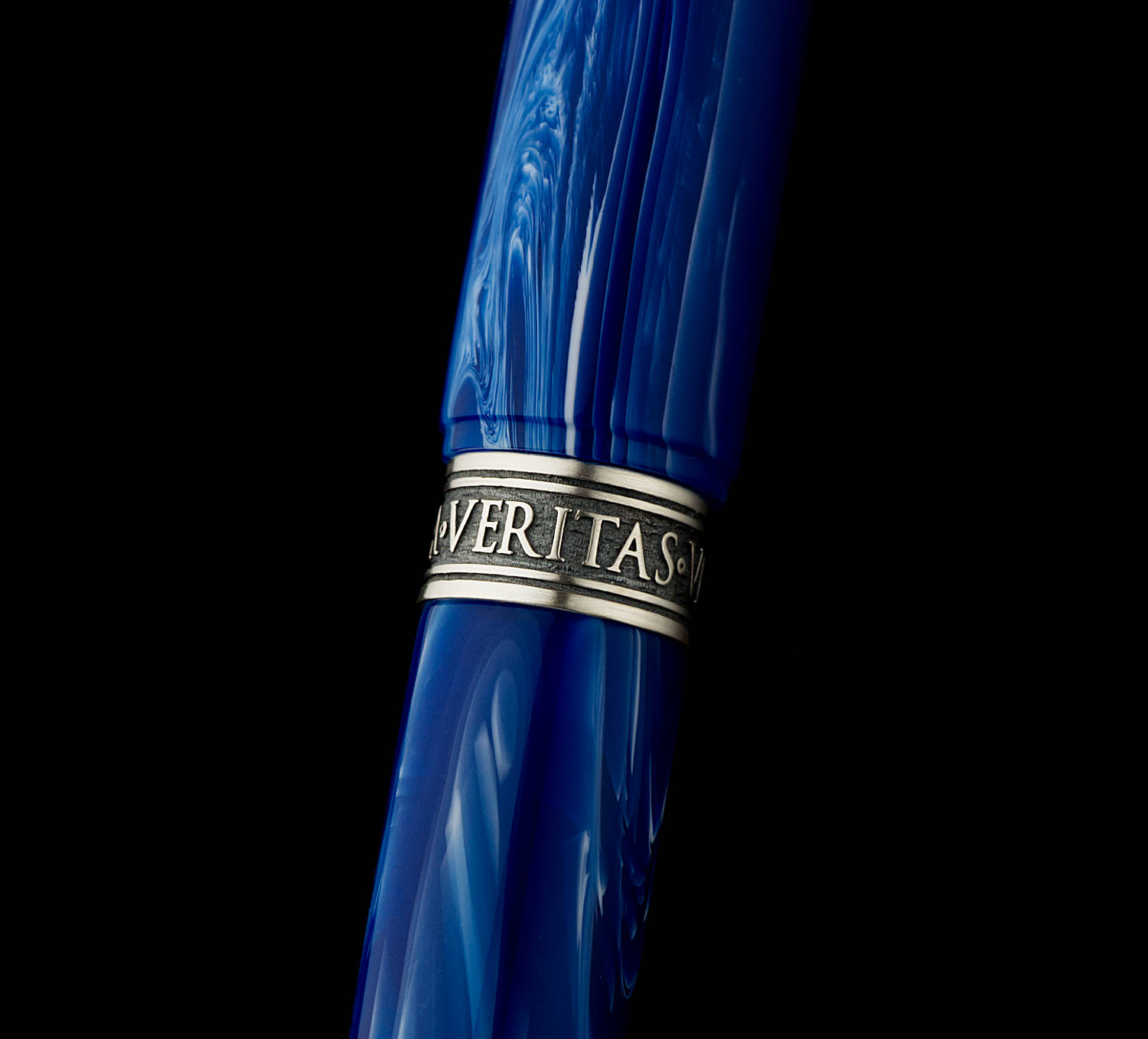 There's a stylish sterling silver band on the barrel with "Vincit Omnia Veritas" ("truth conquers all") engraved. It gives the pen a distinctive look and also a bit of heft.
Kilk Epigram feels noticeably heavier in hand than, say, a Leonardo Momento Magico or a Pilot Custom 743. The pen is about 28g capped, which is relatively high for a resin pen. I like it.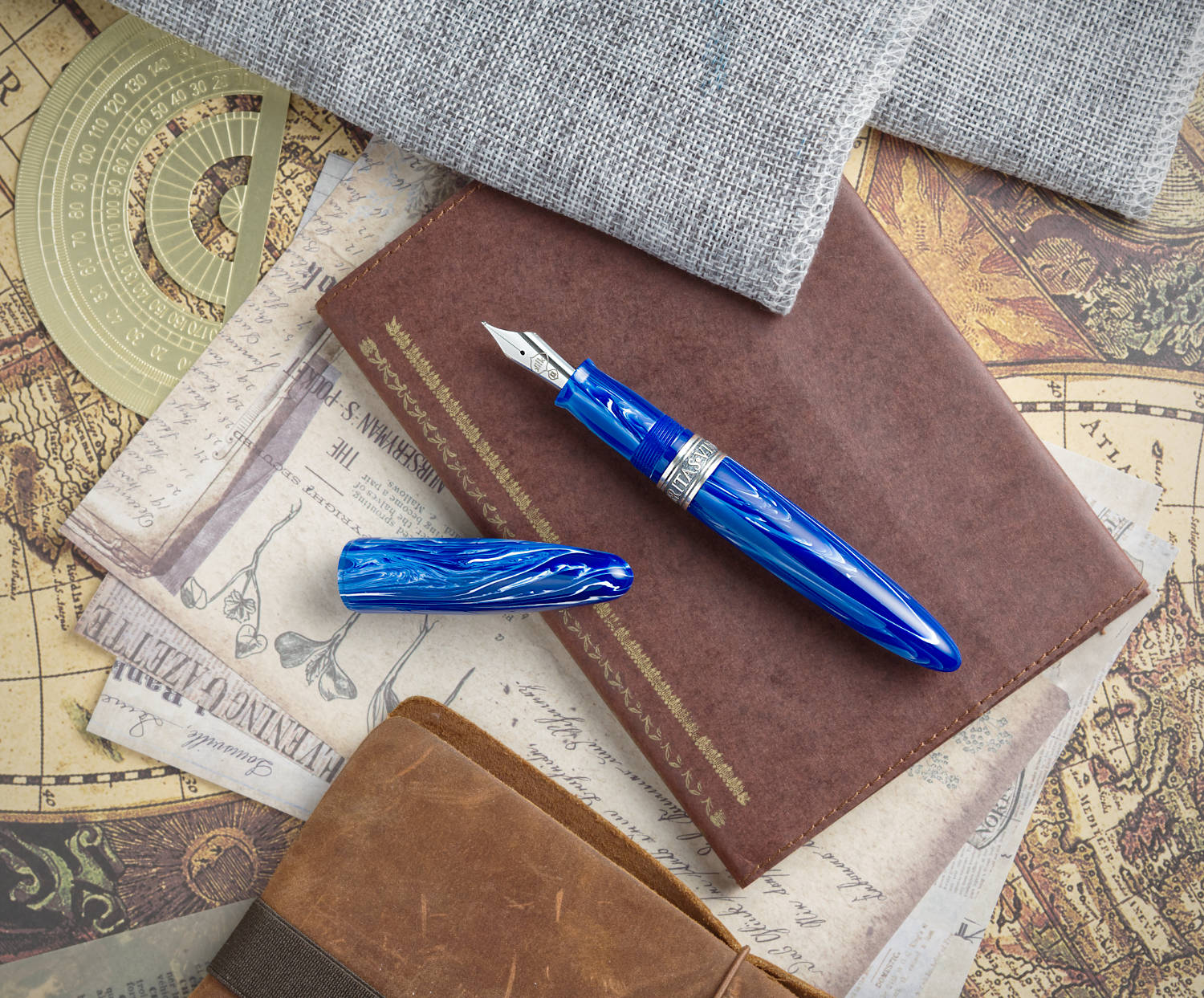 There's no inner cap, as far as I can see, but it looks like it's got a ledge. That should keep the nib from drying out.
You can't post the pen securely. The cap falls off. I tend to post pens, but this one is large enough that I don't mind. (As long as I don't lose the cap.)
It takes about one turn to uncap the pen. The threads are smooth and there's no cross-threading.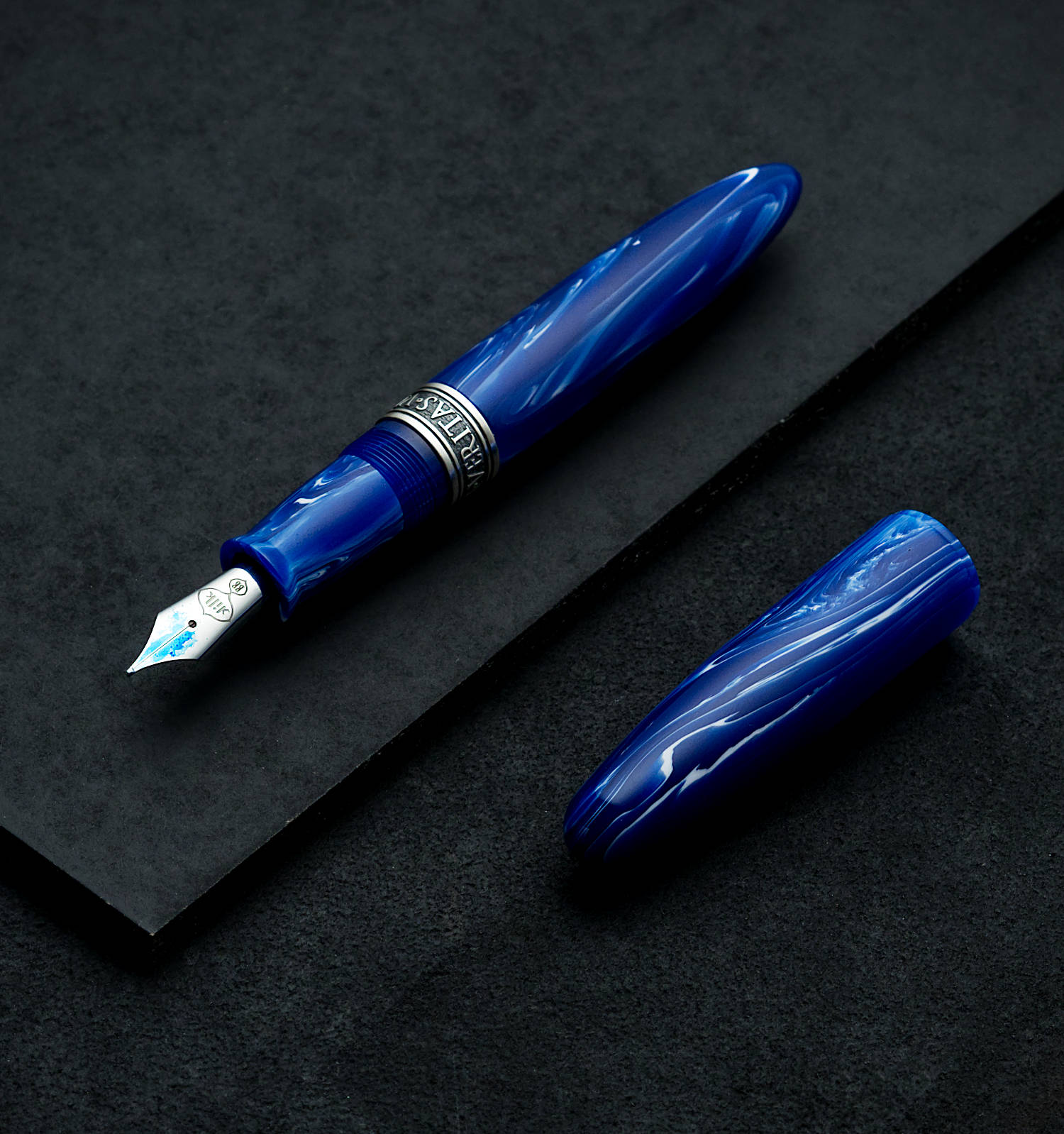 The blue and white swirly acrylic looks nice, but there isn't much depth and no chatoyancy. There's nothing wrong with that, but the bar has been raised significantly in recent years, thanks to maker pens and acrylic wizards like Jonathan Brooks and Bob Dupras. Kilk's acrylic isn't quite in the same league.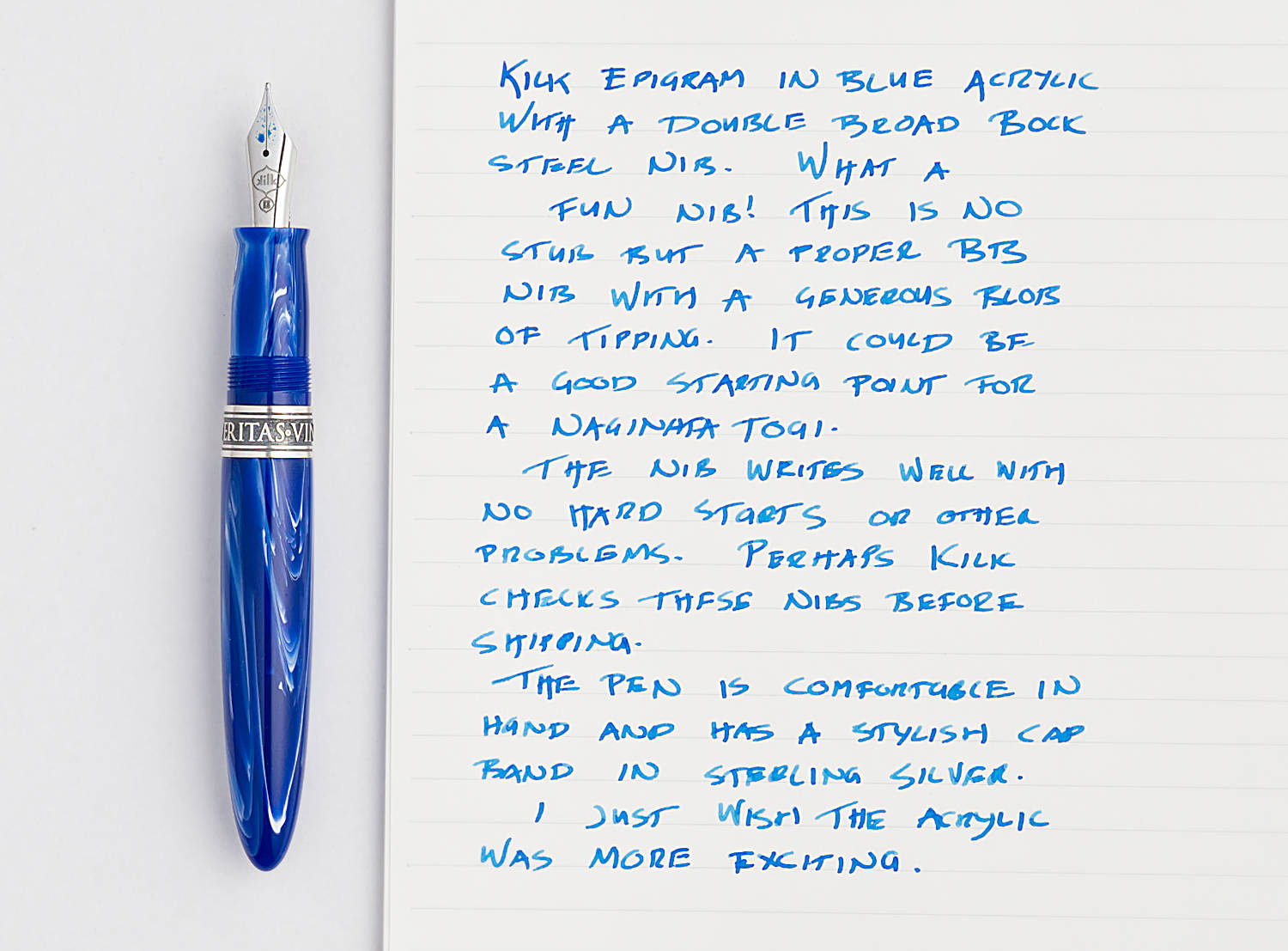 Overall, I honestly enjoyed this pen. The double broad nib is a joy to write with, the pen is comfortable in hand and the band is stylish. I'd love to see a version in, say, Black Cherry Koi, though.
---
(This pen was provided by EndlessPens in exchange for a review and photography.)
#kilk epigram #kilk fountain pen